Matt Cosgrove, Thanks, Mum! Scholastic Australia, April 2019, 24 pp., RRP $17.99, ISBN 9781760664039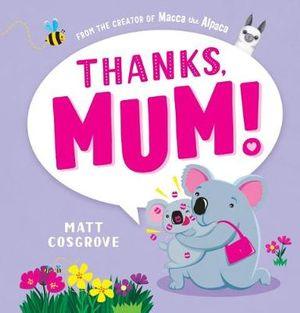 'When the pedals are turning
But your stomach is churning
'Cause you're still only learning
Just wail…Mum!'
From the creator of the popular Macca the Alpaca books comes this fun and lively story about our Mums and all the things they do for us. From helping to find lost things, to pushing us on swings, from comforting us when we are sad or scared, to reading to us, it's hard to imagine what we would do without them. 
The endpapers hollering Mum! Mum! in various fonts will trigger a sense of familiarity (and possibly a headache) to mothers of little ones. Similarly, every page depicts a familiar scene to little ones where they might need a bit of help- falling off a skateboard, getting lost, feeling hungry or needing more loo roll. Luckily Mum is always there to help out. And at the end of the story, an important reminder that Mums deserve a bit of looking after every now and then, too.
I liked this book very much, but I couldn't help wondering where Dad was while poor, harassed Mum was being shouted, wailed, howled and hollered at. Perhaps a sequel Thanks, Dad! would even the score!
The book has a great rhythm and would work well as a read aloud. It could be used to prompt discussion about the special people in our lives and all the things they do for us, not limited to mothers, though it could also be used as part of mother's day celebrations. Children will enjoy the predictability of shouting Mum! on every page and fans of Macca the Alpaca might spot a familiar book being read to a giraffe by her mother. 
'Thanks, Mum!' is a noisy, brightly coloured book with an interesting layout, varied font and lively animal characters.
For ages 3+.
Reviewed by Deb Kelly