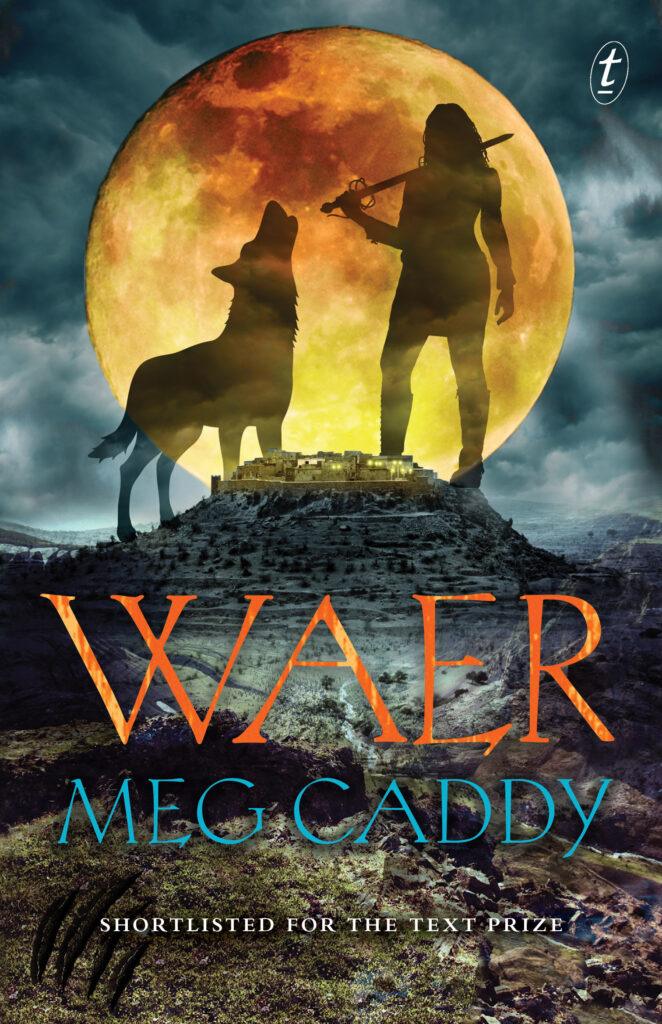 Meg Caddy, Waer, Text Publishing,  1 March 2016,  240pp.,  $19.99 (pbk),  ISBN: 9781922182210
Caddy's fine debut fantasy is a classic struggle between good and evil, between those who love power and those who strive for balance. It advocates for acceptance, tolerance and understanding of difference. It is also a cracking adventure story with a touching romance as an added bonus.
The Waer of the title are werewolves living and working in a secluded valley. Their peace is disrupted when Lowell a young Waer, finds a girl, Lycaea, on the riverbank.   She brings discord and disruption to the valley as soldiers of Leldh come down with fire and sword to search for her. Leldh is the last of the Kudhien, golden-eyed beings who crave power over all.  Lycaea has escaped from his stronghold, Caerwyn, where she was tortured and infected with Waer blood. But she is in denial and ignores her altered state even though she accepts help from Lowell. During the attack on the valley, Lowell's family disappears, his home is destroyed and the Waer captured or dispersed. Together Lycaea and Lowell travel south to seek aid to stop the growing power of Leldh.
As is usual in stories of this type along the way there are mysterious companions, unexpected alliances formed and unwelcome revelations. Caddy has created an engaging main character in Lycaea who struggles constantly to recover her initial training, to overcome her brainwashing, to develop a relationship with Lowell and to be at peace with herself. Lowell is also a fine character, depressed by the loss of his family, missing his homeland but gradually finding solace in his relationship with Lycaea.
The novel is peopled with interesting characters, brimming with excitement and incident and comes to a satisfying dramatic end.  There are some gnarly bits in the writing here and there. I am all for gender equality and equal opportunity but I do wonder when the heroine, a slight and weakened  seventeen year old battles a sword- wielding man with only a staff and a lot of will power. Somehow she wins through using a mind meld… plus the conflict between the torturer Kaebhla and Lycaea creates tension and mystery but is not totally honest.  That aside this is an emotionally intense read sure to satisfy its intended audience.
Reviewed by Mia Macrossan