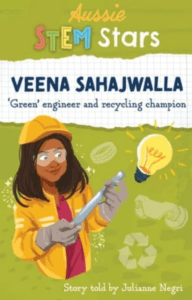 Parents and teachers may remember seeing Veena Sahajwalla on the ABC TV series, The New Inventors, from 2004 to 2011. The Indian-born engineer has a well-deserved reputation for being a problem-solver and inventor. She is the developer of 'green' steel, which uses old rubber tyres and other recycling materials to cut down the amount of coal needed in steelmaking. She has also designed MICROfactories to turn recyclable materials into useful everyday items such as green ceramics.
This well-written book in the Aussie STEM Stars series traces her life from her early years in Mumbai, through to studying engineering in Kanpur, postgraduate study in Canada, marriage and a move to Melbourne followed by employment at the University of New South Wales. She is the founder and director of the Centre for Sustainable Materials Research and Technology (SMaRT) and head of the ARC Microrecycling Research Hub as well as holding her position as a professor at UNSW. She has won the Eureka Prize twice and was the 2022 NSW Australian of the Year.
She is the well-deserving subject of this Aussie STEM Stars volume, which is engaging to read and has a strong narrative flow. Let's hope it inspires many more young budding engineers to be as passionate about solutions to recycling, leading to a less wasteful society.
Reviewed by Lynne Babbage