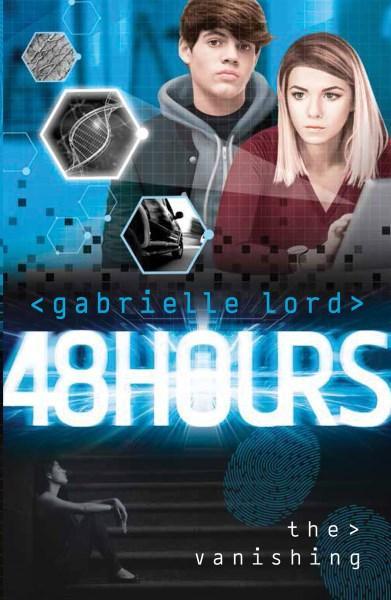 Gabrielle Lord,  The Vanishing (48 Hours #1),  Scholastic Australia,  1 Sept 2017, 240pp.,  $14.99 (pbk),  ISBN: 9781743629758
One kidnapping.

One cold case.

Two amateur investigators.

48 hours to solve the case.
Jazmine "Jazz" Mandel is an amateur teen sleuth who just can't keep her head out of true crime stories, and sees a mystery around every corner.  When her best friend is kidnapped and calling the police is not an option, she knows she only has 48 hours to gather evidence and crack the case before the trail goes cold…
48 Hours is a fun mystery novel for teen readers, combining elements of modern culture and technology with classic thriller elements.  The story opens with Jazz imagining herself as a detective, before we discover she's actually just daydreaming on her way to school.
Told in the third person, we like Jazz and we warm to her as a character, even if we do occasionally feel exasperated by her impetuous and impatient nature.  Her adventure sees her teamed up with a boy from her school named Phoenix, and together they work to unravel the mystery of the kidnapping as well as a decades-old murder that is intertwined with their friend's disappearance.
The book is full of humour and wit, and Lord does a great job making her characters believable and likeable.   In the tradition of Nancy Drew and The Famous Five, Jazz and Phoenix join a long line of juvenile detectives solving crimes committed by adults who vastly underestimate their resourcefulness and resolve.
The ending was just a little bit Scooby Doo for my liking – the villain stopped only just short of saying, "I would have gotten away with it too, if it weren't for you snooping kids!"  But on balance I still enjoyed the ride, it was energetic and well-paced and would make a good page-turner for the 13-16 year-old age bracket.
This is the first in what is to be a series of 48 Hours books starring Jazz and Phoenix, with two new stories soon to be released.  Who knows what kind of trouble our heroes will find themselves in next time?
Reviewed by Christian Price