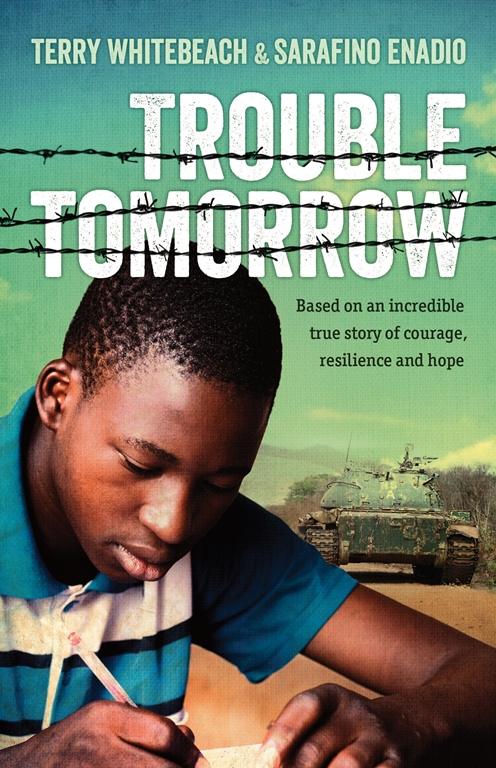 Terry Whitebeach and Sarafino Enadio,  Trouble Tomorrow,  Allen & Unwin,  Feb 2017,  224pp.,  $16.99 (pbk),  ISBN 9781760291464
This is the fourth collaborative project between Terry Whitebeach and Sarafino Enadio, and it is based on Enadio's life in South Sudan, his journey to refugee camps in Kenya, and his later migration to Australia. This book tells the story of Obulejo (whose name means "trouble tomorrow"), a fifteen year old Ma'di boy living with his family in South Sudan before it became a republic in 2011. The family are forced to flee when the rebels (The Sudan People's Liberation Army) come to their village, and then later to the town where Obulejo is living at a boarding school. He is terrified of being abducted by the rebels and forced into being a soldier, so with some others he begins the long and dangerous trek to Kenya and the refugee camps set up there for Sudanese refugees.
This is an important book for the insight it gives to Sudanese culture and recent history. With over 20,000 Sudanese people migrating to Australia in the last 20 years, books like this will help other Australians understand their cultural background. It is a plainly written story which doesn't over emotionalise or dwell on the tragedy and violence going on all around Obulejo. There is a brief history of the Sudanese Civil War at the end which is very helpful to understanding the political climate of South Sudan at the time this book was set. Recommended for public and high school libraries.  Teachers Notes are available on the Allen & Unwin website.
Reviewed by Rebecca Kemble