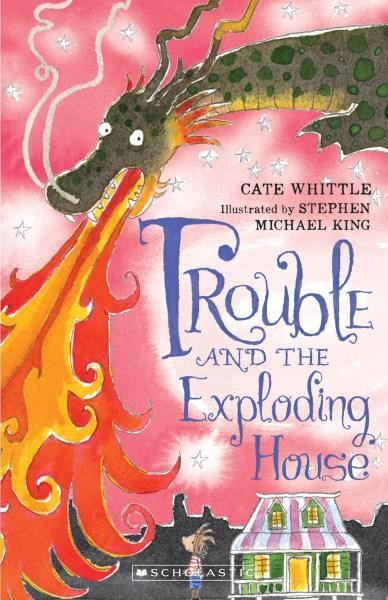 Cate Whittle (text),  Stephen Michael King (illus.), Trouble and the Exploding House (Trouble #4),  Scholastic Australia,  1 August 2017,  96pp.,  $9.99 (pbk),  ISBN:  9781742990798
This is the fourth episode in this enchanting series about Georgia, her lively family and their shape-shifting, potato-chip eating and sarsaparilla-drinking pet dragon, Trouble.
The family lives on a cliff where Trouble even has his own cave.  All is well until a Man from the Government arrives. He wants to turn Georgia's house and Trouble's cave into a Wildlife Park! Georgia enlists the help of her band of school friends. and eventually the whole town, to help save their home.
Whittle has created a cast of characters full of personality, character and verve. Georgia is exactly the kind of girl character I would've loved to read about at her age – she's funny and kind but flawed in a sincere and relatable way.
Stephen Michael King's illustrations are a perfect match to the animated writing, from the stern Man from the Government, to Trouble's amused face when he's helping make banners.
Junior readers of all kinds will enjoy this book, and indeed, this whole series. I'm going to search out the earlier books myself!
Reviewed by Madeleine Crofts