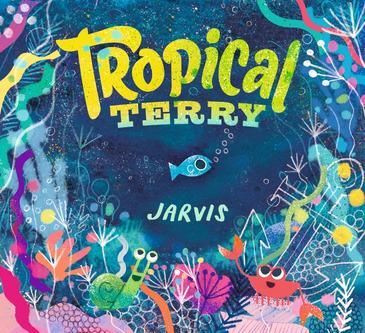 Jarvis, Tropical Terry, Walker Books Australia, 1 July 2018, 32pp., $24.99 (hbk), ISBN 9781406376425
Terry is a small, plain fish living in Coral Reef City. The reef is full of dazzling tropical fish who want nothing to do with a dull-looking fish like Terry until, with the help of sticky seaweed and flashy odds and ends, he transforms his appearance to look like one of them. He leaves his two friends to join the shimmery and pretentious group. When Eddie the Eel tries to catch him for his dinner, Terry escapes by casting off his decorations using the tricks he has learnt from his real friends. Now all the tropical fish want to be friends with Terry and learn the skills he knows to stay safe. Terry discovers that being his old self is the best way to live instead of conforming to the popular group who spend their lives aimlessly swimming around in circles.
Written and illustrated by Jarvis, this colourful picture book is beautifully presented. Its clear message of being happiest when being our authentic selves among true friends is presented within an engaging story. Children between the ages of 4 to 10 years will delight in both the illustrations and text as there is a great deal to discover and enjoy on each vibrant page.
Reviewed by Grace Nolan