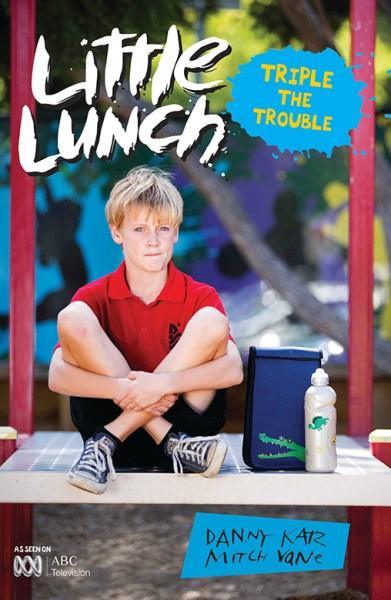 Danny Katz (text),  Mitch Vane (illus.),  Triple The Trouble (Little Lunch), Walker Books Australia, 1 May 2017,  128pp.,  $12.99 (pbk),  ISBN: 9781925381825
Triple the Trouble is the funny tie-in to the popular ABC television series Little Lunch, containing three stories for young readers.
In The Body Bus, a bus pulls up at the school with a sign that says "The Body Bus" and everyone is trying to guess its purpose. Melanie reckons it's a health van for healthy eating, while Battie thinks it's a dentist bus. Rory screams out that maybe it's the bus that collects dead bodies when there's been a virus outbreak. Everyone is having fun guessing what the van is for except for Debra-Jo who thinks the bus is there to check for head lice. She is freaking out because she thinks she still has head lice and she'd get in trouble. Debra-Jo tries to find all sorts of ways to avoid the bus, making the others wonder what is up with her.
In The Band, it's a rainy day at school and the teacher, Mrs Gonsha is wet and needs dry clothes. She puts Rory in charge of the class, which surprises everyone. While waiting for Mrs Gonsha to return, the students try to keep themselves occupied. Battie is singing a made up rain song and when Atticus hears it, he comes up with an idea to start a band. Battie doesn't really want to but the idea excites Atticus and soon, he's organising everyone in the classroom. Melanie wants to be the band's stylist, Tamara wants to be the choreographer and Debra-Jo wants to be the marketing manager. The whole class forgets what they're supposed to be doing, focusing instead on starting the band.
The third story, The Kiss Chasey Oval, sees Tamara running after Battie in a game of Kiss Chasey. After catching Battie and kissing him on the ear, Tamara declares she could play kiss-chasey at the Olympic level. She challenges her classmates to various games. Rory fights Tamara in fencing – using really old brown bananas. Melanie tries gymnastics on the monkey bars against Tamara but falls on her bum. And Debra-Jo becomes Tamara's unwitting horse in equestrian. Everyone isn't happy with Tamara, especially Battie who is afraid of another Kiss Chasey.
Triple the Trouble is a hilarious book for young readers with even more hilarious illustrations. If your child is a fan of the TV show, or even if they're not, they'll find these bite-size stories entertaining.
Reviewed by Kristyn Levis