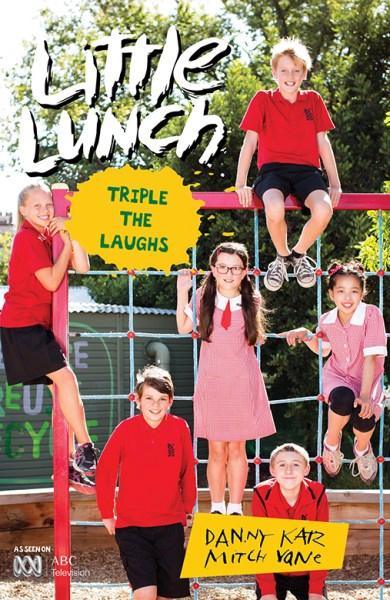 Danny Katz (text),  Mitch Vane (illus.),  Triple the Laughs (Little Lunch),  Walker Books Australia,  August 2017,  128pp.,  $12.99 (pbk),  ISBN: 9781921977398
Triple the Laughs is a collection of three short stories following the daily dramas of six primary students. Written by talented newspaper columnist, Danny Katz, with loads of fun illustrations from Mitch Vane, this book brings together a cast of diverse characters and deals with the outrageous, silly and totally hilarious situations that occur during the 15-minute early break at school, known as Little Lunch.
In this tie-in and the inspiration for the popular TV series, the stories cover such important issues as weird smelling lunch food, the injustice of being 'Germblocked' without reason and a very whacky dress up day. Exactly the types of things that middle graders deal with during the school day.
First, Atticus's grandmother sends him weird smelling food for lunch and then to his utter embarrassment, sends trays of the stuff for his entire class. Then, on a whacky dress up day, Battie comes as Stretcho but can't get anyone to play superhero with him. Finally, Melanie is shunned by all of her friends for allegedly not washing her hands and can't enjoy her last piece of birthday cake. Beyond the laughs, there are lovely, meaningful lessons in these stories about friendship, fairness and learning to get along with others.
In a testament to its popularity, the 15-minute television series was adapted from these very funny, totally relatable books. Aptly described as 'The Office' of the playground, Little Lunch is a mockumentary-style television series with a fabulous cast and pitch perfect storylines. If you are wondering if your child will like the books, give the show a try. I was hooked after one episode and absolutely love the books!
Written for kids 10+, Triple the Laughs would appeal to middle schoolers and could capture the interest of reluctant readers with its contemporary themes and humour.
Reviewed by Stephanie Ward