Nicholas J. Johnson, Tricky Nick, Pan MacMillan Australia, August 2020, 256 pp., RRP $14.99 (pbk), ISBN 9781760787363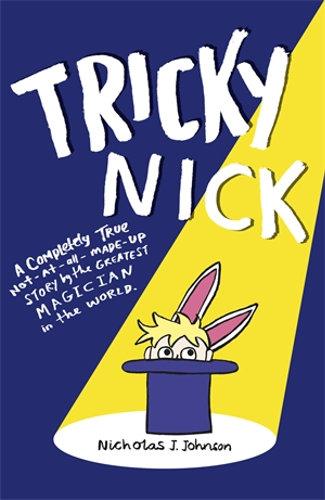 The second I picked up this book I thought the title sounded familiar. A few pages in and I realised why. The author, Nicholas J Johnson (aka Tricky Nick) was a children's entertainer – and a very good one at that! – years ago in Canberra. In fact, he performed at my son's fifth birthday party, somehow keeping 20+ sugared up kids glued to the edges of their seats in wonder and amazement. And he hasn't lost his touch. I loved this Completely true not-at-all-made-up story by the greatest magician in the world. 
The action-packed tale is laugh-out-loud funny (he had me at the footnotes), full of clever twists and has something for everyone: magic tricks revealed, a budding young magician with grand dreams, a mysterious girl full of secrets, visitors from other realms, and a healthy dose of mayhem. Any more would spoil this rip-roaring story. Young and old alike will relish this fun book and learn a thing or two. In fact, the story is so entertaining I'm thinking of booking Nick for my next birthday, if he doesn't mind catering to an older, gin-swilling crowd!
Reviewed by Maura Pierlot