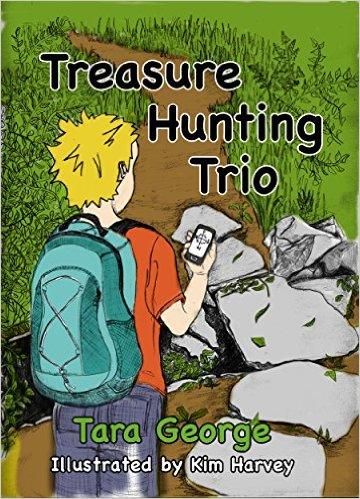 Tara George (text),  Kim Harvey (illus),  Treasure Hunting Trio (Treasure Hunting Trio #1),  Self-Published,  28 June 2015, 50pp, $11.95,  ISBN 9780994309303
Tara George (text),  Kim Harvey (illus),  Caught with the Cache (Treasure Hunting Trio #2),  Self-Published,  17 Jan 2015, 58pp, $11.95, 9780994309341
This unique early reader series introduces primary school children (and perhaps their parents if they're like me) to geocaching, a modern day treasure hunt. Through the eyes of two siblings, Bradley and Molly, and their uncle, the Treasure Hunting Trio explores Belair National Park in Adelaide Hills and then a coastal trail in South Australia's Hallett Cove Conservation Park in a completely new way. Along their journey, they learn about some of the wonders of nature in Australia's national parks and explain a bit about the area they are visiting.
In short, easy to read chapters, the trio search for small hidden "caches" or treasures hidden by other geocachers using a GPS-enabled device. Written from the perspective of the kids, the story answers a new geocacher's questions: What is a geocache? Who are muggles? Why do treasure hunters need to bring their own treasure? It's a great technique for introducing geocaching to novices.
The characters in the story are easily relatable and I love the fact that these books highlight the bond between an uncle and his neice and nephew. Few children's books seem to explore this relationship, but here it's handled realistically. Their loving, friendly and fun-loving relationship is seamlessly integrated into the story. In addition, things aren't always perfect — as when Molly encounters a not-so-nice peer group of hikers — and this just lends to the authenticity of the writing.
I enjoyed going on these two adventures with the Treasure Hunting Trio. I learned about a new way to explore the great Australian bush and that geocaching is even available internationally. I also appreciate a book that inspires activity, especially outdoors. For newbies, there is a wealth of information and links included for further research. And for those that are practiced geocachers, this series would be a fun read when not out searching for treasure.
Reviewed by Stephanie Ward