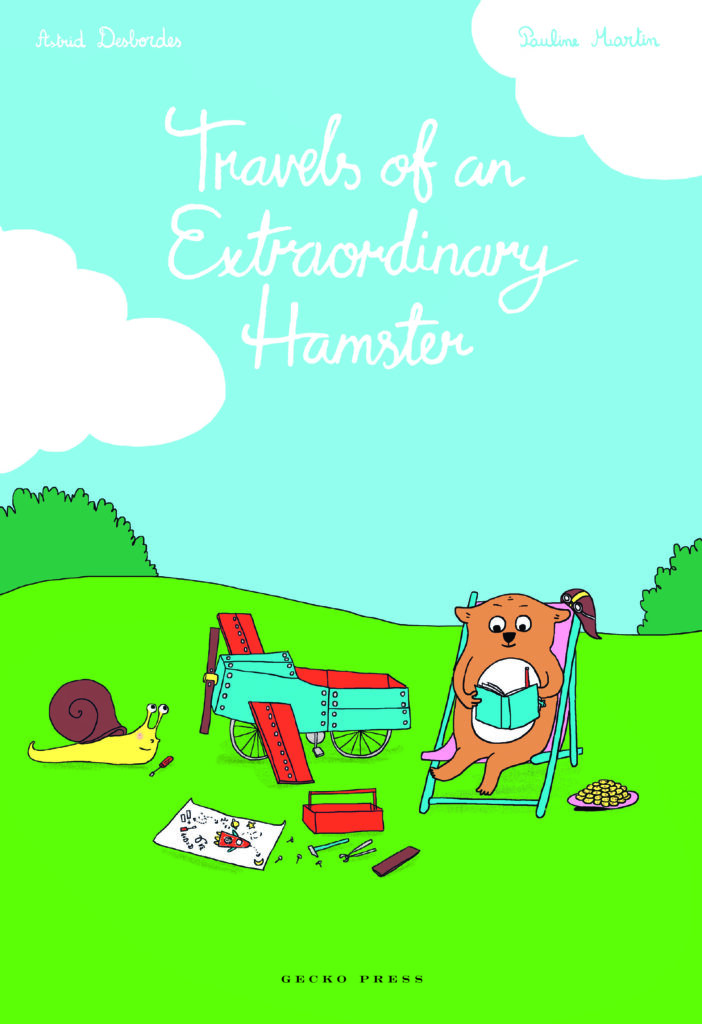 Astrid Desbordes (text),  Pauline Martin (illus.),  translated from the French by Linda Burgess. Travels of an Extraordinary Hamster Gecko Press,  June 2015, $AU18.99/$NZ24.99 (pbk),  128pp.,  ISBN 978-1-927271-83-4
This graphic novel is a delightfully subtle take on the issue of egotism, that part of all us that sees the bright side of things from a personal perspective, often to the detriment of others and often blind to our own foibles (note the visual play on rosy and blue glasses in the pictures). We are to read the word "extraordinary" in the title with a touch of irony: is hamster a superhero or something of a twit?
The opening chapter (there are many interwoven storylines here) has an image of a caring community of difference, sitting around and enjoying a picnic. In the background is Hamster, isolated and seemingly contemplative.  The speech bubbles reveal the subtlety. Hamster is invited to join the group for a chat and a snack and Hamster states his preference just for the snack. Snail understands that just hearing the voices of loved ones is enough. Hamster simply "steals" the snack and asserts that hearing loved ones can be "too much" and departs. Extraordinary! Told in three pages (as most of the storylines are), the text then focuses on one of Hamster's cousins (Mole). There is a touch of the grandiose in Hamster's use of a pair of binoculars, stating, as he peers at the moon, that there are hamsters there and he is going one day to join his cosmic family (bored with the folks in the clearing and bored with Mole's reflective novel he was given to read). He asserts that not only is Mole blind but losing his mind. Really? Home and away certainly an archetypal image in many coming-of-age stories and so children are invited, in a subtle way, to potentially reflect on self-motivation. What is it that drives us to do what we do? What are the potential consequences? Quiet philosophical reflection is at the heart of this charming book. Recommended.
reviewed by John McKenzie