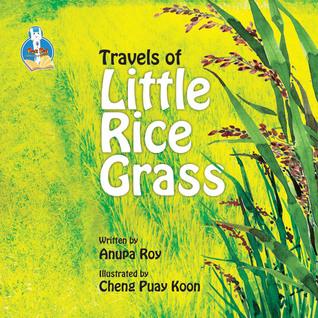 ROY, Anupa (text) Cheng Puay Koon (illus.) Travels of Little Rice Grass Pagesetters Services, 2014 24pp SGD$14.44 pbk ISBN 9789810903749
We often take things for granted.  But do we know the stories that sit behind the products that we purchase and the possible implications?  This picture book is an excellent introduction into rice, a staple food for many across the world.  Rice here is given a voice, a voice that can recall histories of the past use of rice as well as challenges for the future.  An excellent example of faction, the use of narrative style through the voice of the subject is an engaging way to invite children to inquire about the cultural histories (including global spread and harvest celebrations), ecology, agriculture, nutritional benefits and future challenges of our food sources given the unpredictability of climate change.
The illustrations are richly textured where palette and colour contrast are used effectively to represent the benevolence of nature versus human exploitation.  There is a poetic song to be sung at the end that speaks of rice production and the joy of good food from the perspective of the child.  Incidentally, the book is supported by new technologies that provide audio support and audio interaction across languages for the young child reader.
Overall, this picture book is recommended for the parent/teacher who wants to excite interest in children in terms of beginning the process of investigation into the food sources we use, often without thinking.
reviewed by John McKenzie