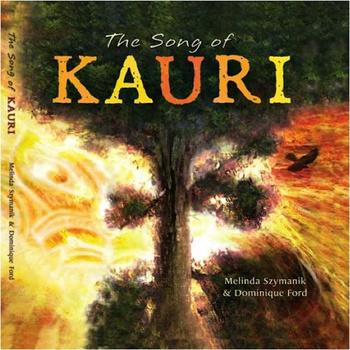 SZYMANIK, Melinda (text) Dominique Ford (illus.) The Song of Kauri Scholastic (NZ), 2014 unpaged NZ$27.00 ISBN 9781775432289 SCIS 1668721 
This picture book is a wonderful blend of image and narrative whereby both evoke the mystery of the beginnings of time from the point of view of the kauri tree.  Though the kauri tree was known as the god Tane Mahuta for Māori, the author here has envisaged life before humans, taking up a mystical/spiritual stance whereby what is evoked is a sense of otherness and possibility.  What if the nature was truly given a voice?  What would the kauri tree say?  How would the eco-system respond to the contemporary destruction of the kauri as a consequence of human acts of deforestation as well as natural causes?
The pictures here are surreal where the name of the game is less representation and more poetic evocation through the use of cultural icons, the explosion of colour, and the breaking of frames.  From the 'strange and ugly sounds of war' to the arrival of new people 'singing songs of urgency' the songs of people are enveloped by the song of the Kauri.
It is a book that demands a response of the intuitive spirit as much as the rational mind, a response engendered by the visual and verbal poetry.  Teachers may well want to locate a copy of the documentary film Song of Kauri (2012) to supplement this picture book.  Teacher notes are available from the publisher.  Highly recommended.
reviewed by John McKenzie