Vikki Conley (text) and Penelope Pratley (illustrator), Tomorrow Girl: A tale of mindfulness, EK Books, February 2021, 32 pp., RRP $24.99 (hbk), ISBN 9781925820362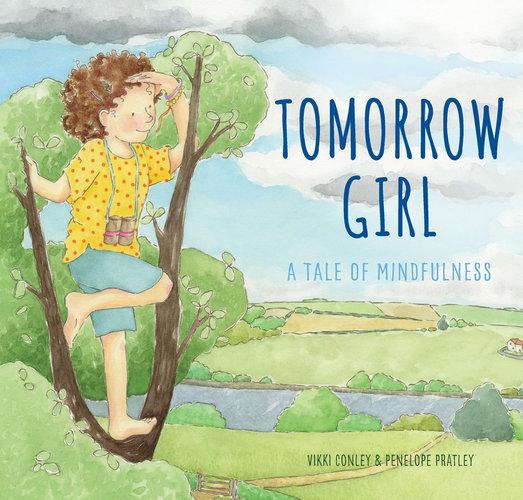 Tomorrow is always in a hurry; indeed, in so much of a rush that she doesn't give herself time to appreciate what is around her. When Tomorrow meets Yesterday, she tries to entice her toward adventurous play but Yesterday is worrying about what has happened in the past so Tomorrow skips on toward other things. Then Tomorrow meets Today. At first, she isn't very interested in the things that Today has discovered – she is too keen to get to the next place – but one day Today manages to entice Tomorrow to be still, just for a few moments, and a whole new world of wonder opens up for Tomorrow.
This charming book echoes the tradition of fables; good lessons learned by engaging characters who discover something new by chance – an awakening. Conley has skillfully captured the pace of childhood – with whichever of the children we associate. Are we in a hurry? Are we still concerned about what happened previously? Or do we take the time to enjoy all that is around us? Such pertinent questions for all ages in an era of continuous movement from one thing to another without time for reflection and sometimes enjoyment of that in which we are involved.
In addition to the carefully chosen prose of Conley, Pratley takes the story to a beautiful conclusion with her wonderfully washy watercolour illustrations. She has effectively conveyed the skip in Tomorrow's step, the static sorrow within which Yesterday finds herself and the Wow factor of living and loving all that is around us with Today's wide-eyed imagination.
Tomorrow Girl – A Tale of Mindfulness is a delightful read for young children as the illustrations take us on a dance toward Tomorrow's discoveries. I was a little troubled that Yesterday didn't find a new more positive direction however, this is Tomorrow's story.
As a Tomorrow Girl myself, I was pleased for Today's gentle reminder.
 Reviewed by Jennifer Mors