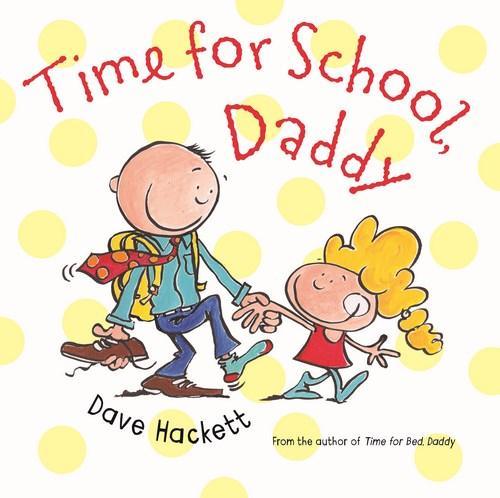 Dave Hackett, Time for School, Daddy, University of Queensland Press,  30 Jan 2018, 32pp., $24.95 (pbk), ISBN:9780702260049
'Wake up, Daddy, it's time for school.'

'But I'm tired,' says Daddy.
From the creator of Time for Bed, Daddy comes this wonderful new parody of a family's morning routine. In Time for School Daddy, we meet a determined young girl trying her very best to convince her beloved daddy to get ready for school. Talented cartoonist and author Dave Hackett, uses this witty role-reversal to tell a delightfully funny tale from a little girl's point of view as she navigates the fun and frustrations of that all too familiar morning-time routine.
The inky-acrylic illustrations are vibrant in colour and beautifully expressive, standing out against the crisp, white background spreads and bringing an essential layer of meaning to the story. The accompanying text is written in a simple, child friendly font, embellished with some cartoon-style onomatopoeia and a smattering of emboldened key words that stand out in bright red contrast on the page.
There is humour aplenty, as the little girl takes on the mantle of the parent: deploying typically adult phrases and tactical encouragement in various bids to hurry and cajole her reluctant father along. Throughout, her father remains genuinely and joyfully engaged, clearly relishing his childish role.
'You need to hop out of bed and say hello to the morning!'

'I don't feel well,' says Daddy. 'I might have a temperature.'
Along with all the brightly entertaining pictorial detail in this story, the father's revealing facial expressions generate a fabulously comic irony when paired with his little girl's earnest asides.
Amongst all the fun and games, the playful language reveals a gently loving rapport between father and child and makes this story an ideal choice for young readers (pre-school and early primary) who may sometimes find the start of the day a somewhat overwhelming experience. As well as offering some comic relief, this title might also inspire parents to inject a little more laughter and lightness into their own family's morning routine.
Reviewed by Lisa Mercer