Tim Cope, Tim & Tigon, Pan Macmillan Australia, September 2019, 352 pp., RRP $18.99 (pbk) ISBN 9781760554293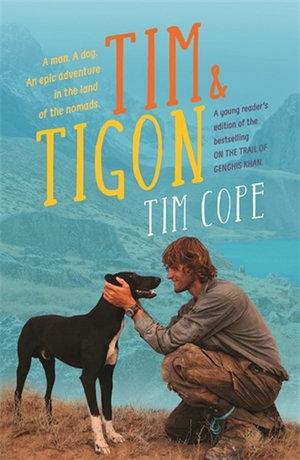 Tim & Tigon is the true story of Tim Cope's incredible 10,000-kilometre journey on horseback from Mongolia to the Danube River in Hungary. He follows the historic route of the legendary leader Genghis Khan.
With no experience of horse riding, Cope flings himself into the saddle. The route across the Eurasian steppe traverse's remote wild grassland and mountains. His epic journey spans more than three years. Cope's quest was intended to be an authentic experience of traditional nomadic culture in remote landscapes. As we discover alongside Cope, nature often intervenes.
Cope faces many unforeseen challenges and almost hopeless circumstances. He writes about danger with humour and yet poignant insight. Much of this humour comes from his cheeky animal companions, particularly the mischievous and loveable dog, Tigon. Cope's bond with Tigon and the horses as they travel together will really appeal to readers who enjoy non-fiction animal stories.
Cope originally shared his story in his award-winning five-hundred-page account On the Trail of Genghis Khan (Bloomsbury 2013). Tim & Tigon retells this adventure for 10-13-year-old readers. Some of the differences are age-appropriate storytelling, less detailed political and historical background and a foreword and epilogue.
Although more concise than On the Trail of Genghis Khan, in Tim & Tigon Cope still creates a story rich in its detail of nomadic life. The narrative is gripping and enhanced by Cope's ability to vividly portray the lively personalities of the people he meets.
Cope's ongoing inner story of understanding is also as important as the adventure itself. This is a powerful concept for young readers. Cope set a lofty goal, learns along the way, makes mistakes and challenges his own assumptions. There is thoughtful empathy and insight into cultural misunderstandings. Cope reflects on the changing emotion of journeying and his own errors of judgement. He shows that humans can be as extreme and unforgiving as the landscape.
Cope's ability to wonder and articulate at the journey as a rite of passage catapults this story into one with endless opportunities for deeper exploration. It is an unforgettable insight into the fascinating culture and characters of the nomadic people of Mongolia and Kazakhstan. There are videos and documentaries available online to complement the book.
From nights haunted by howling wolves and armed thieves, to days filled with the hospitality and the pure kindness of strangers, Tim & Tigon is an adventure filled with animals, wild places and incredible perseverance.
Reviewed by Angela Brown