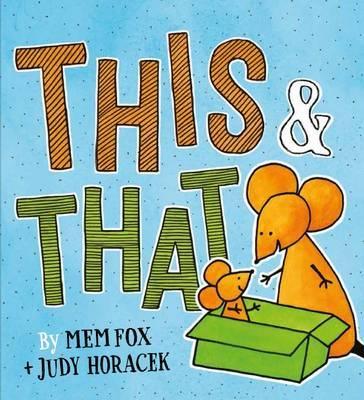 Mem Fox (text) Judy Horacek (illus),  This & That, Scholastic Australia,  1 October 2015, 32pp.,  $19.99 (hbk) ISBN 9781743622537
This & That is the third book created by Mem Fox and Judy Horacek. It is another wonderful bedtime story for kids under 4 years old. It will no doubt follow on from the success of Where is the Green Sheep and Good Night Sleep Tight. 
Mem Fox's rhymed rhythmic text teams brilliantly with Judy's bright quirky cartoon illustrations. Readers will delight in a series of adventurous tales involving cavernous caves, a chimp with a magic hat, crazy giraffes, kings and queens and more.
Young children will have fun repeating the phrase'
'I'll tell you a story of this, and I'll tell you a story of that…'
Judy Horacek's pictures carry the text beautifully. Two cute little mice are cleverly hidden on each page and there is plenty of room for kids to create their own stories.
Mem Fox has written over 30 books for children. This book will be an excellent addition to her collection.  It's an outstanding picture book that will ignite kid's imaginations and spark lots of discussions.
Reviewed by Wendy Fitzgerald