Amy Sarig King, The Year We Fell From Space, Text Publishing, November 2019, 272 pp., RRP $16.99 (pbk), ISBN 9781922268853.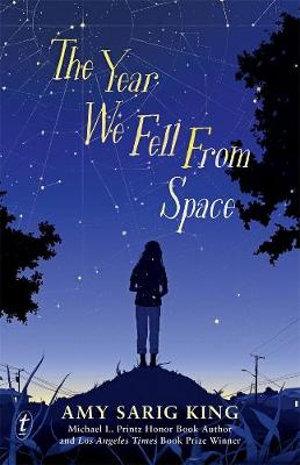 The Year We Fell From Space by Amy Sarig King is about twelve-year-old Liberty Johansen, who is trying to cope with a shift in her parent's relationship. Liberty draws star-maps based on looking at the night sky. By joining the dots to draw her own constellations, the pictures in Liberty's star maps help her to interpret the events unfolding around her.
Liberty's relationships are experienced through her inner thoughts, particularly as she struggles to rationalise the effect of her family breakdown on her mother and sister. King writes with authentic and intelligent emotion about divorce, depression, friendship, mental health and the changing dynamics of parent and child relationships. There is a real comfort for readers in how Liberty deals with her own anxiety and worry. In a cacophony of feelings of sadness, anger, confusion, humour, Liberty's disappointment in adults escalates.
In grappling to cope, Liberty turns to whatever help she can find, even if it is a meteorite that has fallen from space. Liberty shows that there is no perfect way to cope and that our ideas about normal ways of thinking are nebulous. I really enjoyed the visual links to night sky such as the black star pages on each title page and that this novel depicts a relatable young woman interested in astronomy.
There are links to resources for mental health and astronomy in the Author's notes and there are also teaching notes on the publisher's website. An extra consideration for southern hemisphere readers, is that the stars and constellations referenced are visible in the Northern hemisphere. The characteristics of Polaris, the North Star for example, align with Liberty's emotions. As we have no such bright wayfinding star in the southern hemisphere sky, this could be mapped to the Southern Cross constellation and the stars and constellations of Indigenous Australian Astronomy.
The Year We Fell From Space, has an age guidance of eight and above. It is a big human story, woven into even bigger thoughts about the universe. How on earth we all grapple to find our way in the world plays out within the immensity of the night sky. It would make a thoughtful and inspiring classroom study for upper primary and above to explore themes of mental health and adolescence.
Reviewed by Angela Brown