Charles Hope (text) and Jess Racklyeft (illustrator), The Year of the Rat, Wild Dog Books, February 2020, 32pp., RRP $24.99 (hbk), ISBN 9781742035789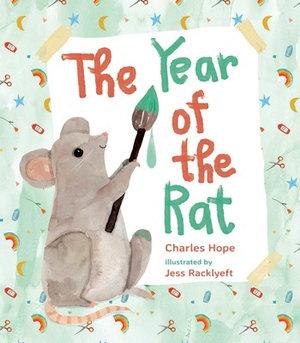 2020 is the Year of the Rat according to the Chinese zodiac calendar. This is a wonderfully sweet picture book that stars the unlikely 'Rat' as heroine of the story alongside other fellow Chinese zodiac animals.
The story is simple; an upcoming school play is dealt a series of 'disasters' which threaten cancellation. However, Rat's determination, positivity and adaptability save the day, and the play goes ahead. There is a focus on the unique and admirable qualities of Rat. Throughout the story she is described as timid, but also capable, hard-working, calm in a crisis, quick-witted, positive, adaptable and ultimately courageous. The story celebrates and inspires those with more introspective personalities.
The accompanying watercolour illustrations by Jess Racklyeft are perfectly suited to the simple charm of the story. Colourful washes of paint produce delightful animal characters spread across a clean white background. My favourite spread is of Tiger sneezing a literal spatter of germs across the pages.
A story suitable for 5 years and over, although as the press release suggests, also a perfect gift for a baby born in the year 2020. Additionally the book would be a great introduction to Chinese culture and traditions to children, especially with the Year and corresponding animals, their Chinese character and description included at the end.  
Reviewed by Julie Bertola