Richard Yaxley, A New Kind of Everything, Scholastic Australia, February 2020, 272 pp., RRP $18.99 (pbk), ISBN 9781743834077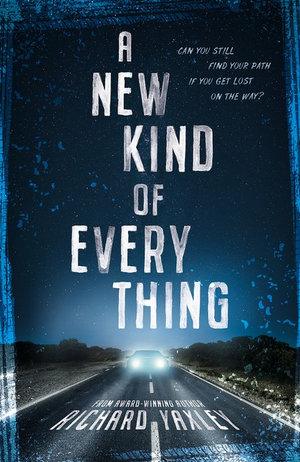 When Dinny Gallagher's father Barney dies, his family is shattered. He is left to establish his identity and gain an understanding of how life works through the influence of his mother, brother, and others who drift in and out of his life. Though his parents' relationship was a difficult one, his mother is lost due to Barney's death and takes a long time to rediscover her sense of purpose. His older brother Carl embraces a friendship group that encourages his growing aggression towards those around him. New schoolmate Krush is anarchic and leads Dinny to seek freedom and break the bounds of conventional society. Under these influences it would be easy for Dinny to lose his way, but his own sense of what is right and wrong guides him through some extremely difficult situations.
Through Carl's activities, the book explores the motivations and behaviours of Australian white nationalism and the rise of racism. Carl sees the differences in people, and imagines danger, while Dinny meets people from different backgrounds and sees their similarities to him, retaining his open-mindedness. Ultimately Carl's journey reaches a shocking climax which will change Dinny's life forever.
Allison, Dinny's mother, has her own journey, rediscovering her love of singing and performing, and regaining her confidence. Carl is dismissive of this, and Dinny sees it as an escape from real life, but over time he comes to understand more why his mother might want this. The stark contrast between his mother's approach to life and Carl's lets Dinny see that the world operates on different levels – the surface veneer, and the darkness underneath.
A New Kind of Everything is about grief, and the way it breaks life apart. The fragmented opening chapter perfectly captures the trauma of the death of a loved one, particularly when it is an unexpected and violent death. But the book also deals with racism, domestic violence, drug use, hypermasculinity, suicide and childhood abuse in a raw and unflinching way. Dinny's accepting, calm perspective allows him to gain wisdom. Over time, as Dinny navigates the challenges and traumas of growing up, Dinny understands that his choice is to live life in a different way to his brother Carl.
Dinny's story is powerful, tragic and moving. It takes the reader on an extraordinary journey that encourages insights and understanding about human nature, life, and the choices we make that make us who we are.
HIGHLY RECOMMENDED
Reviewed by Rachel Le Rossignol