Mark Carthew (text), and Dave Atze (illustrator), The Dingle Dangle Jungle, Ford Street Publishing, February 2020, 32 pp., RRP $16.95 (pbk), ISBN 9781925804416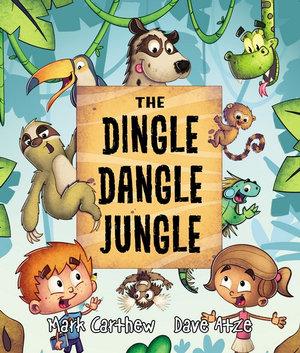 Would you like to explore the Amazon jungle and meet the creatures that live there? So many different kinds of animals inhabit this vast rainforest: some are big and some are tiny, some have amazing spots, strips and colours and some are so well camouflaged that they will disappear into the background. You'll meet nocturnal and day animals, fierce animals and friendly animals. And as you explore, take a moment to stop and listen, you'll realise the jungle is alive with many different sounds.
In this cleverly constructed picture book, Mark Carthew and Dave Atze take the young on a romp of an adventure. Known for his celebration of language and wordplay, Carthew speaks to the reader through rhyme and gentle humour, making the expedition one of excitement and discovery. But like all good escapades, you'll have to wait to story's end for the creature's  true identities to be revealed.  
Developing and extending the text through his illustrations, Atze  introduces the two young protagonists as they bravely make their way through the jungle with camera and notebook in hand, observing and documenting their findings. His crisp, outlined, playful images will appeal to the very young and also assist with narrative understanding. 
Highly recommended for young readers 3 – 8 years
Reviewed by Mem Capp