Kes Gray (text) and Jim Field (illustrator), Oi Aardvark!, Hachette Australia, July 2021, 32 pp., RRP $15.99 (pbk), ISBN 9781444955927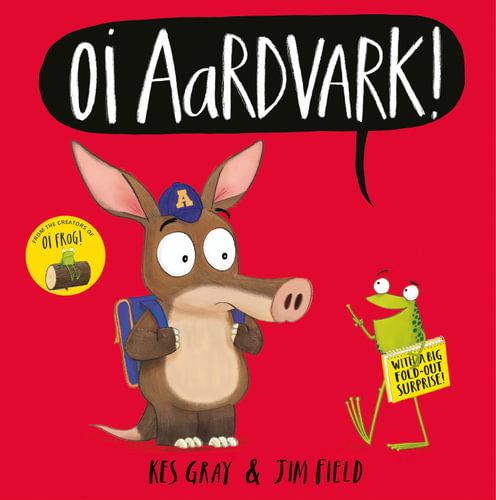 Oi Aardvark! is a jocose alphabet book from cover to cover! Presented to you by Frog, Dog and Cat as the latest instalment to the Oi Frog! collection, this picture book continues the hilarious seating arrangement for an exotic array of animals.
From Aardvarks sitting on cardsharks, to zebras on candeLebras, or perhaps even a new species of Zillyzinkzikkers on frilly pink knickers! Readers will be transported by Frog's passion for his all new Alphabetty Botty Book.
This illustrated book is not as simple as following the alphabet, each character's portrayal is individualistic in their own ways. As seen previously, Cat holds onto his pessimism and is contrasted by Dog the optimist. These concepts are interpreted once again by Jim Field who has accepted Gray's challenge to visualise each rhyming conundrum. Initially, the sketches appear simple, but truly, they are artistic and support the text significantly! By adding accessories such as the Giraffe's pink slippers to the Jay's varied hairstyles, readers are drawn to look for the subtle hidden jokes on every page. From the scratchy font to the eyebrow raises on each page, the colourful layout of the book is exceptional, each capturing creativity, literature, and friendship.
I found this picture book quite entertaining and would recommend to younger readers, or others who are still a child at heart. Although I found a few rhyming phrases uninteresting compared to others, the book continues to live up to the collection's standards. With a big fold out surprise, readers will be eager to turn the page for another exciting fun reveal.
Kes Gray, as a multi award-winning author continues to spread silliness on his reader's toast as they laugh out loud to his words. Similarly, Jim Field's, also an multi award winner himself, is lead-driven as a character designer and animation director. To express their gratitude during these COVID times, Oi Aardvark! is dedicated to our doctors, nurses, volunteers, shop workers and delivery drivers!
Reviewed by Anna Tran