Claire Saxby, The Wearing of the Green, Walker Books, April 2022, 192 pp., RRP $18.99 (pbk), ISBN 9781760653583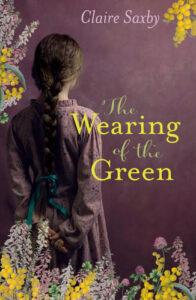 Ma used to say that some people are born shouting for the things they want and others whisper. Together, they keep the conversation moving forward.
After losing her family in the Potato Famine in Ireland, Biddy heads to Melbourne where she is sent to work for Mr and Mrs Morrison. Her Ma would say she is lucky to have work and food, but Biddy wants something more than that. She is determined to reunite with her brave but rebellious brother, Ewen.
Living with the Morrison's is fraught with hardships for Biddy, but she is no stranger to struggle, and perseveres with the help of sweet little Annie Morrison. But Ewen is never far from Biddy's thoughts and when Mrs Morrison dies in childbirth and Annie soon after, Biddy sneaks away from the isolated Morrison farm in search of her brother.
Biddy's story is a powerful one. She encounters injustice, racism, classism, tragedy, and cruelty in her journey to find Ewen. Being an Irish immigrant looking for employment works against her as the Irish are said to be lazy, inefficient, and dimwitted. They are overly represented in the criminal courts and are more likely to see themselves behind bars than their English counterparts.
The rise of the 'new' English gentry sees Biddy being looked down upon, unworthy of entering premises through the front doors. She is emotionally abused by the Morrisons and faces the tragic death of everyone she loves and cares about.
However, the more powerful element of this narrative is the hope, generosity and kindness Biddy experiences and her readiness to accept them. Her late mother's words drive her to move beyond her present circumstances, see the good in the bad, persist when hope seems lost and enact a superhuman level of resilience. A friendly gentleman offers her a lift into Melbourne when she escapes the Morrison's farm and is ragged, exhausted and filthy. A generous butcher gives her a delicious sausage, and the local prostitute allows Biddy to spend a night 'on her patch' safely curled up on the shores of Melbourne.
Then of course there is Miss Carmichael and Mr Owen. The ever protective and sensible Miss Carmichael guides the Irish girls into 'proper' employment and offers a much needed haven. Mr Owen employs Biddy and shows her kindness and respect, gives her engaging and rewarding work collecting information for his newspaper articles and offers to find her brother.
This overriding message of hope culminates in Biddy finding her rebellious brother facing court after putting forth his views on the injustice of systemic racism in the most public of forums, Speaker's Corner. His beautiful, mighty singing voice urging for change draws Biddy in and eventually leads her back to family and connection.
Claire Saxby's writing style is inviting and paints a picture of a rising nation that has no time to mourn tragedies or to follow a world order out of place in the Southern Hemisphere. Its inhabitants will not go quietly, from the Irish immigrants who will not be subservient to the newly established middle class, to the First Nations people who will not be intimidated by the gun wielding Mr Morrison. Through her protagonist, Saxby teaches that survival does not simply mean food and shelter; it is the need for love, connection, and warmth. Resilience is the key to overcome adversity.
I read this book within two days and thoroughly enjoyed being taken on Biddy's journey. I'd recommend this to lovers of historical fiction and teachers wanting to inspire their Year 7-9 students with our nation's past.
Reviewed by Katie Mineeff