Ben Martynoga (text) and Moose Allain (illustrator), The Virus, David Fickling Books, November 2020, 160 pp., RRP $14.99 (pbk), ISBN 9781788452106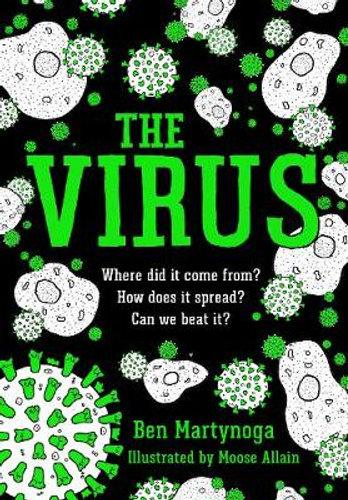 Written by Dr Ben Martynoga, this fun, witty but highly factual illustrated chapter book comes out into the world at a crucial time as we all live under the constraints of a global pandemic. The author is not only a neuroscientist but is also an exceptional and well published science writer. The Virus is his second children's book.
The Virus takes the reader on the "day in the life" adventure of the COVID-19 virus from chapter 1, "What the Heck is a Virus?" into the gut of a human in chapter 3, "Virus on the Rampage". A flashback to the viruses "Origin Story" creates interesting links to animals and the DNA structure of humans while the book finishes on a comforting note with the final chapter "Let's Call it Quits" and how we can adapt and learn to live with the multitude of viruses in the world.
Most of the book is written about coronavirus from a COVID-19 virus character viewpoint which makes the science concepts more fun and palatable for the target audience. However, the technical chemistry and science terminology is not watered down and is quite complex in parts. This is balanced out by Moose Allain's comical illustrations to demonstrate the science behind the scenes. The illustrations for page spread "Meet the Team" of a human's immune system battling a virus is particularly hilarious and will hold the attention of children interested in learning more about the science behind our immune system.
The glossary on the final few pages is helpful for children, parents, and teachers to reference the meaning of the scientific terminology which is heavy in the text.
Children aged 8-12 deeply interested in getting deep into the science background of our current pandemic will enjoy this amusing yet accurate read as well as those looking for pairing science concepts with the engaging, witty illustrations.

Great teachers aid for STEM studies on COVID-19.
Reviewed by Stef Gemmill