Paula Hayes (text) and Katy Jiang (illustrator),
The Vexatious Haunting of Lily Griffin
, Fremantle Press, July 2022, 448 pp., RRP $19.99 (pbk), ISBN 9781760991753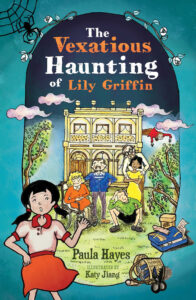 This book is three books in one, the first book or 'part' has been published previously as 'Lily in the Mirror' and was a CBCA Notable in 2017. There are mysteries to be solved in each part, including ghosts, ghasts and poltergeists. 
Lily is a precocious eleven year old who wishes to be dark and mysterious and is longing for something interesting and supernatural to happen to her. As her parents are going on a trip, she goes to stay with her beloved grandfather, GG, at his big old house in Treebark. Lily is drawn to a dusty, locked room that holds a treasure trove of relics from the past. To her surprise and delight, she discovers a girl (also Lily) trapped inside a bewitched mirror. She sets about uncovering a well-kept family secret and attempts to find a way to set Lily free. Her grandmother, Nimmie, has dementia and is dying. Both Lilies are pivotal in ensuring Nimmie has the farewell she yearns for. At the end of the first part, it is intimated that Lily's family may move to Treebark and ends with Lily finding a mysterious box that she cannot open.  
The second part is called 'Lily in Full Bloom'. The family moves in with GG while waiting to build their dream home. Lily's mum goes in search of her Vietnamese birthmother and Lily starts school. Used to being different and alone, she is overjoyed to find kindred spirits Isabella and Cat, who help her grow and develop across the novel into a confident and somewhat kinder person. She is also beginning to mature in other ways and is developing feelings for Cat's brother, Clive. The group are together in their fear and dislike of the school bully, Breanna 'Booga' who has been intimidating them, and will find her comeuppance in a very unlikely way. Lily finds another box at her Grandma Pinkie's house and with the help of a surprise family member, the significance of the mysterious boxes is unveiled, and it is also revealed that Lily may have a real magical bloodline. The part ends with the appearance of Edgar 'pudding boy', a poltergeist who seems to be settling in. 
Part 3 is 'Lily in a Pickle'. Now that Lily's friends are up to speed on her magical past, the group are intent on finding a solution to the problem of Edgar, sadly not departed, who is wreaking havoc. There are secrets that lie in the 'Little House' at the bottom of the backyard, historical events that need to be unearthed and evolution that takes place in many of the family members, including Lily who is working on growing her 'kindness muscle'. This family growth is truly where the satisfying resolution lies. 
 Written as a journal in first person, I was drawn into the mystery and connected with the character's love of words, books and dusty treasures. She is quite outspoken and has a sharp tongue at times, especially for her annoying sibling that she calls 'Pig Boy'. But the character is also very funny and there were some laugh out loud moments. There are many family members to meet (both living and not) along with friends. They are all well realised, with their own flaws and strengths, and add colour.  
Recommended for readers upper primary and above, lovers of mystery and spectral beings. 
Freemantle Press Teacher Notes 
Reviewed by Sharon Seymour