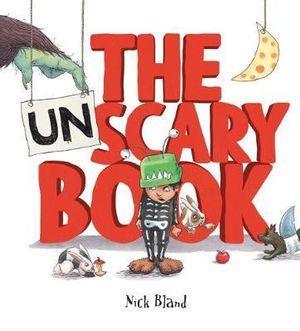 Nick Bland, The Unscary Book, Scholastic Australia, September 2018, 24 pp., RRP $17.99 (hbk), ISBN 9781742994147
Nicholas Ickle is determined to scare you with a variety of scary characters but his book doesn't quite go to plan…a parade of cute and cheerful things surround him as the book moves along.
Written and illustrated by Nick Bland, author The Very Cranky Bear, The Wrong Book, and several other popular picture books, The Unscary Book continues the contrary craziness of the author's previous work. The illustrations are bright and although more and more elements are added on each page, the overall look is cheery rather than cluttered. The addition of each (un)scary character as the book progresses add to the sense of fun and reiterate Nicholas Ickle's increasing frustration about the lack of scariness in his book.
I had the honour of having The Unscary Book read aloud by Luca (age eight), and can confirm that this is a fantastic book for children to read independently. The use of a different font to stylise the adjectives helps readers identify which words to emphasise: "But ice-cream isn't scary, it's delicious!"
The repetition may bore older readers, but the great illustrations and Nicholas' comical frustration will keep them engaged.
Luca concluded with "I liked the pictures, but it wasn't scary", and is looking forward to taking The Unscary Book to school to share with his friends. Looks like this will be another hit by Nick Bland!
Recommended 4+ years but younger children will enjoy the illustrations
Reviewed by Jessica Dowling