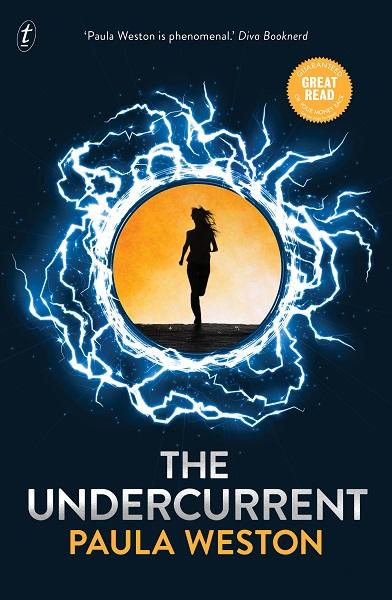 Paula Weston,  The Undercurrent,  Text Publishing,  31 July 2017,  396pp.,  $19.99 (pbk),  ISBN: 9781925498233
The Undercurrent bursts into action in the middle of Brisbane city in a not-to-distant future. Global food shortages have allowed multi-national GMO corporations such as Pax Fed to undercut, buy out and contaminate Aussie farms. It's not only crops that Pax Fed want control of, rumour says they are experimenting with genetic modification of military personnel too.
Eighteen-year-old Julianne de Marchi has a problem – she can't control the undercurrent of electricity that flows through her. Plus, she's been held accountable for burning down her old high school. Her mother, Angie, retired leader of the anti-Pax Fed protest group the Agitators, is determined to help Jules keep her secret. When Jules' life is threatened, Angie must uncover the sinister plot that puts both their lives at risk.
Weston's work is a full throttle ride that will leave readers questioning who to trust right to the very end. Using a range of third person viewpoints, Weston creates characters that are complex and likable. The relationship between Jules and the soldier assigned to her protection, Ryan, is one filled with sparks and sizzling tension.
A scary and plausible vision of the future, The Undercurrent is a high-voltage read recommended for older teen readers.
Reviewed by Fiona Miller-Stevens