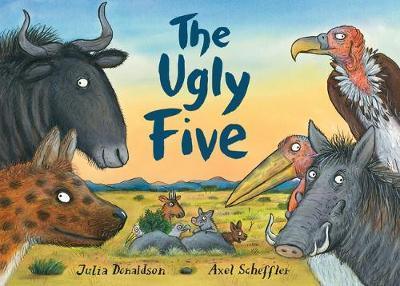 Julia Donaldson (text),  Axel Scheffler (illus.),  The Ugly Five,  Scholastic Australia, 1 Oct 2017, 32pp., $24.99 (hbk) ISBN 9781407174198
From the world-famous Gruffalo team comes an animal story about diversity, friendship and family love. An informative natural history story that describes five 'ugly' safari creatures going for a walk to meet up with their babies and setting them into context of the African plain.
Readers will instantly recognise Scheffler's whimsical style with those cute faces and white expressive eyeballs (his gorgeous preliminary sketches can be seen on his website) and Donaldson's magical skill for rhythm and rhyme. They will especially love the marabou stork with legs 'long and skinny … covered in poo'.
My slight reservation is that unlike all their previous great collaborations, there is no real building tension – but it is still a most beautiful and recommended book. With strong messages to celebrate everyone as they are and not judge on appearance, this book presents a great starting point for discussion about self-image.
Reviewed by Liz Anelli