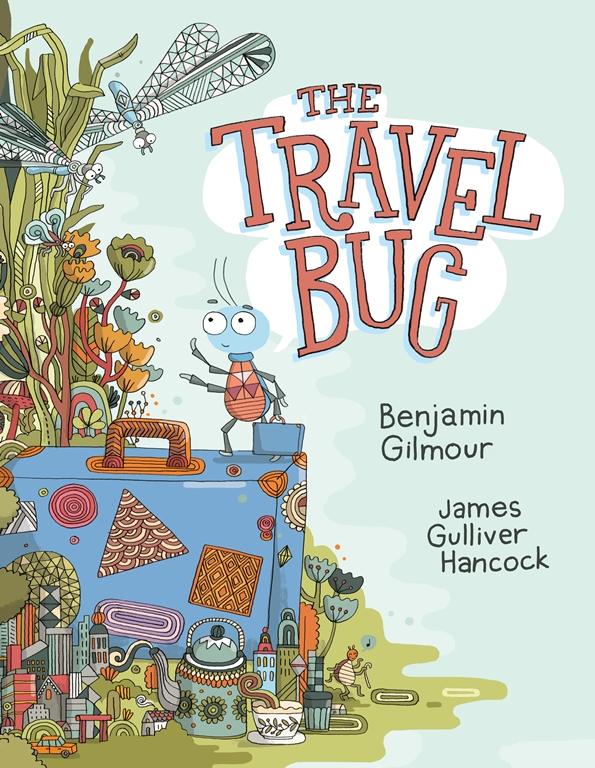 Benjamin Gilmour (text), James Gulliver Hancock (illus.) The Travel Bug, Penguin Random House, 30 Jan 2017, 32pp., $24.99 (hbk), ISBN 9780143780137
The popularity of programs like Who Do You Think You Are? and the renown of the Ancestry website indicate a common need to know who we are related to and where we belong. The cute bug who is the protagonist of this picture book also wants to know his place in the world. He wanders across the globe visiting places as far flung as Afghanistan, New York and the Amazon. While he is welcomed in each location, he cannot find his roots. Ultimately he realizes he is unique and as a travelling bug he can have friends and feel at home everywhere.
Hancock's playful illustrations and intricate designs create a sense of movement and vibrancy that imbues the bug's travels with energy and delight. Their zest complements the skilled simplicity of the rhyming four line verse creating a balanced harmony of text and illustration.
This colourful picture book reveals the need for acceptance and a sense of belonging to a wider clan or family. The warmth with which the travelling bug is greeted wherever he goes emphasises the links and global characteristics that bind us together despite our diversity. The Travel Bug is a text brimming with hope and shared experiences that will be enjoyed by readers in the kindergarten to lower primary range.
Reviewed by John Nolan