Andrew Hansen (text) and Jessica Roberts (illustratior), The Spongy Void (Bab Sharkey and  the Animal Mummies #3), Walker Books Australia, June 2019, 240 pp., RRP $14.99 (pbk), ISBN
9781760651183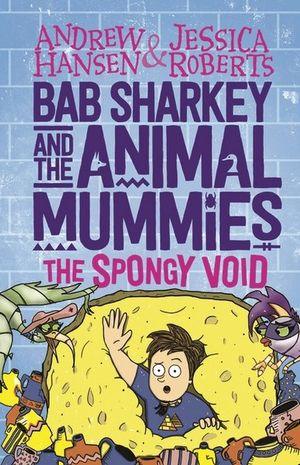 A mummified chunk of brain. A Fish Mummy sucked down a garbage chute. And a chamber of purple magic… that absorbs people like a sponge! On a rescue mission, boy Pharaoh Bab Sharkey becomes trapped in Egypt's greatest pyramid. What is the terrible truth about the Unpharaoh's past? Can Bab unearth the secrets of the Spongy Void? And will Prong and Scaler be thrown into the mummy museum forever?
The Spongy Void is the third instalment in the popular "Bab Sharkey" series, from comedian Andrew Hansen (The Chaser), and Jessica Roberts. Ancient Egypt is one of those subject that kids seem to find endlessly fascinating (my own seven year-old is obsessed with ancient cultures and languages), and so makes for a perfect subject for a story for young readers.
Bab makes for a good protagonist with whom a young audience will connect and empathise. Full of youthful courage, brashness and sometimes foolhardiness, kids will enjoy reading as he gets himself into scrape after scrape and has to find a way to get himself out again, often with the help of his friends.
I haven't read the first two books so I haven't been through Bab's "origin story", but the essential plot points were easy enough to pick up and I didn't have any trouble following the story without the context of the earlier instalments.
Hansen writes very well for his audience, speaking their language and filling the book with themes and references they will appreciate and understand. Roberts' illustrations are lively and comical, perfectly rendered for this type of story and definitely succeed in their task of bringing the world of Bab Sharkey to visual life.
It's an entertaining read, kids in the 8+ age bracket will enjoy the humour, the adventure and the snippets of Egyptology that they will pick up along the way.
Reviewed by Christian Price