Suzy Zail (text) and Christopher Nielsen (illustrator), Arabella's Alphabet Adventure, Walker Books, March 2022, 32 pp., RRP $25.99 (hbk), ISBN 9781760652425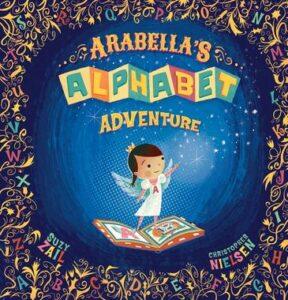 Arabella's Alphabet Adventure is author Suzy Zail's first foray into picture books, being already renowned for award winning YA fiction. Christopher Nielsen, who was shortlisted for a CBCA Crichton Award in 2018, is the book's illustrator.
Several punchy sounding alliterations and vivid verbal descriptors achieve a succinct and imaginative telling of an adventure story about a personified alphabet picture book called Arabella's Alphabet Adventure. The book character is unhappy because, despite being the most borrowed book in the library, it feels inadequate for its lack of words and stories and resentful of being treated roughly by very young library borrowers. So, when there's an opportunity, it hides amongst the seemingly more important travel guides and journeys to Africa where Arabella has grand adventures. But eventually loneliness sets in, and the book comes to appreciate her best features and the value of her purpose.
From the vibrant cover with its deep navy-blue background, to the orange endpapers with decorated letters of the alphabet, to the scatterings of fantastical objects, this book applies a wide range of colours and styles for the jungle designs. The artist then contrasts these scenes with muted yellows, oranges, and greens for the background colours of the library, and cartoon style facial expressions. The illustrations are varied and unique, each evoking a different mood or event within the story. It's difficult to label Nielsen's style which at times has the other worldliness of computer-generated imagery and at other times resembles 1950s patterns and styles but is consistently lively and engaging.
I enjoyed the originality and quirkiness of the book's central character being a personified book and the playfulness of the title referring to both the story content and the name of the book character. I also loved Nielsen's fabulous, detailed illustrations and the vivid imagery of the text.
I recommend this picture book for a slightly older picture book audience (5-7 year olds) who have the patience and maturity for a longer and more complex story than most picture books and an appreciation for its message about gratitude and valuing one's own worth.
Reviewed by Barbara Swartz