J.J. Arcanjo, The School for Thieves (Crookhaven #1), Hachette, February 2023, 240 pp., RRP $16.99 (pbk), ISBN 9781444965735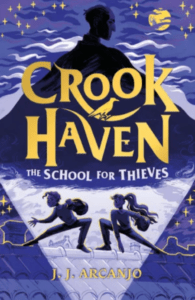 Gabriel, a talented pickpocket uses his skills to keep his often-empty belly not quite so empty. One day he is invited to attend Crookhaven, a school for thieves. Students are trained in lock-picking, forgery and 'crim-nastics', with the intention of doing good once they have graduated and returned to the real world. It's such an interesting premise, very much a Robin Hood adventure: developing illegal skills to achieve good in the world.
Gabriel is a likeable character who knows nothing about his parents. He does well at Crookhaven and makes (and supports) friends, most of whom are misfits, while hiding his true location from his beloved (adopted) Grandma so she doesn't worry. Twins Ade and Ede, who think for each other, are clumsy and very funny, except in their talent area of computer hacking. Penelope Crook, daughter of the headmaster, knows it all and is a linguist with a talent for forging old masters art. Amira, an unwilling student at the school, is a gymnast extraordinaire. This group remember the oft-repeated mantra of "Alone you can be exceptional. Together you become unstoppable". They pool their skills to win the annual competition.
I really look forward to future books, seeing how the misfits adjust as they progress through school, where they stand up to bullies and acknowledge that stealing for themselves is wrong. As with all good stories, there are lots of twists and turns, characters that the reader empathises with and enough loose ends to encourage readers to wait with delight for the next book, which will be released in Australia in August 2023.
Highly recommended.
Reviewed by Maureen Mann