Heather Fawcett, The School Between Winter and Fairyland, Allen & Unwin, September 2021, 352 pp., RRP $16.99 (pbk), ISBN 9781760526542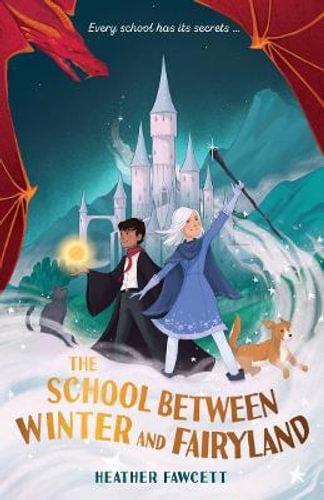 The School Between Winter and Fairyland follows Autumn Malog, the young beast keeper through her quest to find her missing twin brother Winter. Autumn is sure Winter is still alive even though the rest of the Malogs have given up. After finding clues to Winter's disappearance that just don't add up, Autumn pairs up with Cai, her polar opposite. Cai is no ordinary magician, he is the Chosen One, who will save the whole of Eryree from the Hollow Dragon's despair. Despite his title and expected role, Cai has a secret that only the most adventurous beast keeper can help him with. Readers will be familiar with the expected tropes but will also be spellbound by its twisted plot and the intricate layers of old magic.
Autumn Malog is gifted with The Speech, enabling her to speak and command monsters. Her daring and bold nature has attracted an uncanny Boggart friend who will inspire audiences to protect what they love at all costs. Throughout the novel, Autumn's character reveals her relationships with those closest to her, introducing the important themes of family and friendship. Furthermore, as she reveals the secrets of Inglenook School for Magicians, the consequences of curiosity and truth prevails.
Through her many works, Heather Fawcett has written very promising reads such as Ember and the Ice Dragons and The Language of Ghosts. Similarly, this novel did not disappoint. Fawcett's many experiences as an artist have allowed her to create more than a simple book about casting spells, commanding monsters, and fighting dragons. Fawcett has truly thought out every detail about the fairyland she envisioned. She has delivered another warm and fulfilling story, empowering me as an adult-teen to take charge of my endeavours, and be persistent.
I thought this novel would be quite innocent and simple especially in the beginning as it was slow to start. However, my perseverance was worth it and well rewarded as the narrative unfolded. This stand-alone novel has woven such an intricate spell incorporating elements of magic, mystery and young literature. Each character was gutsy, loyal and heroic. I would recommend this middle schooler read as a coming-of-age genre to fantasy lovers who aren't afraid to challenge the unknown.
Reviewed by Anna Tran