Aaron Blabey, The Return of Thelma the Unicorn, Scholastic Australia, October 2019, 28 pp., RRP $17.99 (hbk), ISBN 9781742999890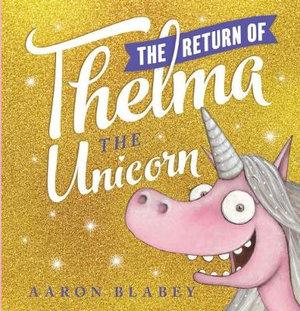 After the huge success of Thelma the Unicorn, I wonder if Aaron Blabey was hesitant to continue Thelma's story. The original was very funny, it had a fantastic storyline, a lovely little life lesson and most importantly it had a unicorn, at a time when the unicorn tsunami was about to break overall retail-dom. Now the market is saturated with unicorn-themed toys and books, but, thanks to the brilliant character Aaron Blabey has created, I'm sure The Return of Thelma the Unicorn will still be a thumping success.
The first book ended with Thelma renouncing her superstar status because of the pressure and loneliness she felt while famous. In the sequel we see Thelma stepping back into the spotlight, but she is not alone. Her dear friend Otis has vowed to be with her, protecting her, encouraging her, enabling her. Initially, she is reluctant, but as the story unfolds, we see that Thelma is living a more balanced life. This time around she is enjoying the fame but also the anonymity her garish disguise affords her.
The underlying message to kids is that with the support of loved ones, you can be who you want to be, and the world needs more people living authentically.
Fans of Aaron Blabey will love this new release. It is a genuine follow on from the first book with the same high standards. The illustrations and book design feel unchanged from the original, but most importantly the story feels authentic to Thelma's character. Another slam dunk for the 3-8-year-olds.
Reviewed by Cherie Bell