Maggie Jankuloska, The Rat-Catcher's Apprentice, MidnightSun Publishing, March 2022, 192 pp, RRP $17.99 (pbk), ISBN 9781252279499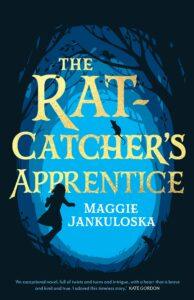 When an innocent mistake causes her family to fall into debt, twelve-year-old Marie is forced to apprentice for a mysterious rat catcher in 1665 France. Longing for adventure, she detests the job (though eventually becomes quite good at it), unaware that the hardship she is yet to face will prove to be her salvation. When plague strikes, Marie must harness her skills and inner strengths to adapt and survive – a seemingly insurmountable challenge in a society characterised by class and gender.
Middle grade readers will be thoroughly absorbed by this gripping, atmospheric adventure. Marie's voice is strong and purposeful, her curiosity, agility and resourcefulness seeing her transform from a girl into a young woman of substance. An intriguing plot, plenty of twists and turns and an interesting historical backdrop add to the appeal.
The book takes on ambitious themes including social norms, aristocracy, family, courage, hardship and belonging. But ultimately, The Rat Catcher's Apprentice is a tale of resilience and survival, one that offers a timely and fascinating parallel to the COVID-19 pandemic. The masks, hand washing, social distancing and isolation adopted in 17th century France are all-too-relevant today.
An impressive debut novel from an exciting new voice suitable for upper primary aged students.
Reviewed by Maura Pierlot