Danny Katz (text) and Mitch Vane (illustrator), The Poppa Platoon in Saving Private Rabbit, Scholastic Australia, May 2019, 224 pp., RRP $12.99 (pbk), ISBN 9781742769257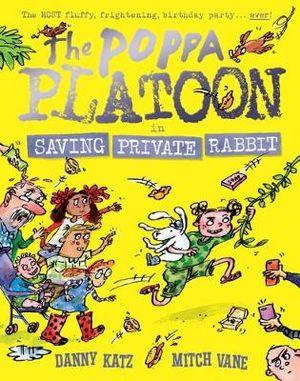 Saving Private Rabbit is the 3rd book in the Poppa Platoon series by veteran children's creators Danny Katz and Mitch Vane. I haven't yet read the first two books and, though it took me a few pages to catch on to the scenario, there was a lot I liked about it. The main idea is that Granddad, or Major Poppa, is taking his granddaughter, Abbie and the rest of the 'Platoon' (three friends and one baby brother) to the shopping centre for a Build-a-Bear type birthday party for Abbie. This mission is fraught with complications as the troop encounter zombie texting teenagers, an allergic reaction to the stuff at 'Soap 'n' Smelly Stuff' and a cranky party host among other obstacles.
I like the concept of the book which allows for military-style vocabulary to be used, which I don't remember having seen done before – especially in a humorous way. Some other really funny parts include the way the shops in the mall had been named (Making a Spectacle of Yourself Eyewear Shop is hilarious), and the way baby strollers are made out to be the monster trucks of the shopping centre.
I have really like some of the books Mitch Vane has illustrated. Our Last Trip to the Market and Jasper McFlea Will Not Eat His Tea were really popular at my house. But for some reason I didn't quite enjoy her illustrations as much in this book, perhaps it is because there is no colour. Having said that they are full of action and they will help any kids who still might need that visual storytelling help.
Interestingly you would imagine that, given the military theme, this book is aimed more toward boys, yet the lead child character is a female. This book will be loved by kids who like Anh Do's characters and other humorous books for the 7-10 year old demographic.
Reviewed by Cherie Bell