Amie Kaufman and Meagan Spooner, The Other Side of the Sky, Allen & Unwin, September 2020, 480 pp., RRP $19.99 (pbk), ISBN 9781760637675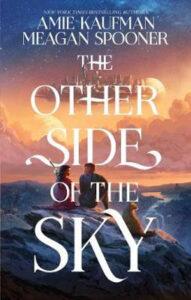 When Prince North falls to the earth from the cloudlands and goddess incarnate Nimh finds him, sci-fi and fantasy worlds collide, sparking an exciting adventure filled with duty, love, magic, prophecy, and betrayal.
Nimh comes from a struggling world on earth where they believe their gods had abandoned them for the cloudlands. Deadly mist storms ravage the lands daily, and the people are becoming increasingly hungry and desperate. But they have magic, and when Nimh manifests her divine aspect she will be their leader and saviour. However, it has been ten years and Nimh still hasn't manifested. The people are getting restless.
North comes from the cloudlands high above the earth where his ancestors fled to centuries ago to escape the degrading state of the earth, which they believe is now nothing but a wasteland. They live in a utopian like world where nobody goes hungry and there is technology galore, and magic only belongs in fairytales in the cloudlands.
When North and Nimh meet, Nimh believes it is destiny, and that they have to play an important role in the fate of both worlds. But North doesn't believe in destiny or magic and just wants to find a way home.
The Other Side of The Sky is a really interesting collision of fantasy and sci-fi told in the perspectives of North and Nimh. It has magic, adventure, forbidden romance, and struggles for power. It also contains the very relevant theme of isolation and how that can affect a person. Although it left me on a cliffhanger, I quite enjoyed this story and would recommend it to anyone over 13 who likes a good bit of world building, fantasy, and sci-fi. 
Reviewed by Libby Boas