Nathan Luff (text) and Chris Kennett (illustrator), The Nerd Herd (Nerd Herd #1), Scholastic, February 2021, 144 pp., RRP $14.99 (pbk), ISBN 9781760971069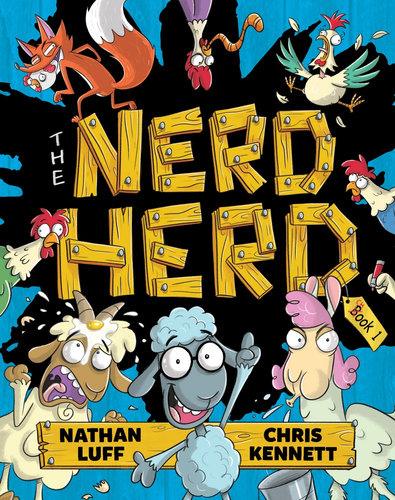 The Nerd Herd is the first book in a new illustrated bridging novel series about farmyard cartoon characters. From the outset, the book feels like a romp of fun and silliness, as characters with amusing names are introduced – there are the friends Baarnabus (a lamb, who prefers to be called Barny), Shaama Llama Ding Dong and Billy the Kid (an angora goat) who are bullied by Ringo, (the farm dog), Plus-sized Puss (the farm cat), Kevin Bacon (a huge pig) and other nasty farmyard characters too. The storyline is told in the first person by Barny who hatches optimistic, yet ill-conceived, plans for the friends to form a gang and protect themselves from the bullying.
The cartoon drawings and the storyline itself are filled with funny absurdities and slapstick scenarios – with a measure of grossness thrown in – to keep the kids chuckling along.  There is also plenty of subtle humour, with Barny having a fondness for puns – – I love his retort to the llama – "no prob-llama" and his reference to a sleeping bull as a "bull-dozer". Barny's many ironic references are funny and clever too.  I also enjoyed how the characters' behaviours relate to their real animal counterparts, such as the chickens who flap around and talk over the top of each other and the goat whose fringe is constantly falling in his eyes.
This book is lots of fun. From the line drawing cartoon style illustrations which exude energy and playfulness and expertly portray the characters and the story action, to the banter of the dialogue, I enjoyed it thoroughly.
I recommend The Nerd Herd for newly independent readers or as a shared reading between adults and kids aged 6-9 years.
Reviewed by Barbara Swartz