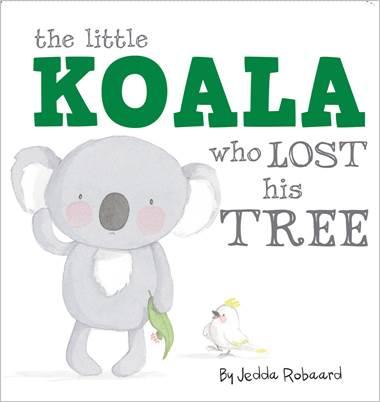 Jedda Robaard, The Little Koala Who Lost His Tree,  Five Mile Press,  Oct 2015, unpaged, $12.95 (hbk),  ISBN: 9781760069223
Jedda Robaard, The Little Joey Who Lost Her Bounce,  Five Mile Press,  Oct 2015, unpaged, $12.95 (hbk),  ISBN: 9781760063467
These are two board books in the Little Creatures series by  Jedda Robaard, suitable for 2-5 year olds. In one of the books Koala is uncomfortable and miserable because he has lost his tree.  In the other,  Joey feels restless because she can't find her bounce.  The storylines follow each animal's quest to locate the missing item.
The text has a repetitive pattern as the main character tries out a series of possible solutions which each end in mishap or disappointment until finally stumbling upon the resolution.  This rhythmic, repetitive pattern enhances the enjoyment of reading aloud and aids the child's comprehension of the story.
The main characters are drawn as soft and round and in light pastel colours, reminiscent of soft toys. The illustrations are well pronounced against a white or light coloured background.  Whilst they support the text by providing context, the style of illustrating the koala and kangaroo does not lend itself well to portraying emotions of fear or surprise, so as to create enough sense of action and drama.  In part this problem is addressed through illustrations of a companion bird, who displays emotions of astonishment, consternation and finally joy, through facial expression and body movement.
The books include lift-the-flap elements which can be effective at encouraging the child's participation.  In these books the flaps have not been used to best effect to hide and then reveal a surprise and so increase suspense – instead, most of the flaps simply reveal the next part of the story.
Overall, the illustrations are lovely to look at and the storyline is engaging.  These books make for enjoyable reading to 2-5 year olds.
Reviewed by Barbara Swartz