Garth Nix, The Left-Handed Booksellers of London, Allen & Unwin, September 2020, 384 pp., RRP $24.99 (pbk), ISBN 9781760631246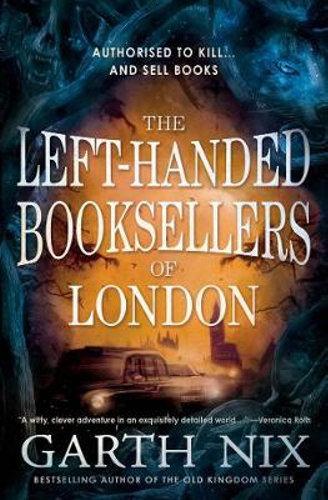 In a slightly alternate London in 1983, art student Susan Arkshaw is looking for her father, a man she's never known. Before she can question her first suspect, he's turned to dust by the mysterious Merlin St Jacques, a young left-handed bookseller on a quest to find the Old World entity who killed his mother. When Susan joins forces with Merlin, she is quickly drawn into the secret business of magical booksellers tasked with policing the legendary Old World wherever it intrudes on the New World. With time running out and the society of booksellers in grave danger, Susan and Merlin must race to find out the truth about their parents and prevent the release of the hordes of the mythic past.
Garth Nix is probably one of the best genre fantasy fiction writers this country has ever produced. You would undoubtedly know his name thanks to his incredible "Old Kingdom" books, but with Booksellers he has stepped his game up a notch and given us an incredible universe of magic and adventure that pulls you right in from the first page, holds you tight and doesn't let go until the tale is told.
Our lead protagonist is Susan – Nix has chosen to reveal the elements of the plot to the reader just as Susan is finding them out for herself, so we really empathise with her as she finds herself beset on all sides by dark forces she never knew existed and overwhelmed by a quest much bigger than she feels she is capable of. Nix is a master of creating these extremely relatable characters in whom every reader can see something of themselves.
Nix cunningly weaves an intricate web of intrigue and shadow-play, tinged with mythology, mysticism and magic; and of course, garnished with a healthy helping of his trademark humour that make his books such a delight to read. The descriptions are lavish and evocative, rich with texture and atmosphere. The narrative is many layered, which has become a hallmark of Nix's excellent writing style.
I would class this as a Young Adult fiction book as there are some scenes and themes that would be a little too confronting for readers from younger age groups. Personally, I absolutely loved it and I truly hope that Nix has more of these stories up his sleeve!
Reviewed by Christian Price