Sophie Masson, The Key to Rome, Christmas Press, May 2023, 174 pp., RRP $19.99 (pbk), ISBN 9780645378856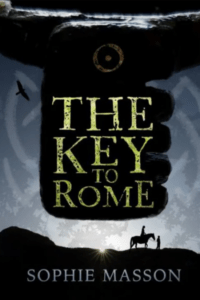 Livia is a 12-year-old living in Roman occupied Britannia during AD84. She makes a promise to her father on his death bed that she will take a mysterious key to her estranged Uncle Marcus. But when she sets out on the perilous journey and enquiries about her uncle's whereabouts result in suspicion or acrimonious rebuff, she realises that delivering the key will be even more risky than she thought. Who can she trust and who is her enemy? And what dangerous secret does the key hold?
The Key to Rome is an exciting, historical novel with intriguing and mysterious plot twists, written by prolific and award-winning author, Sophie Masson.
I enjoyed the depictions of social and political conditions of Roman occupied Britannia. The language of the dialogue and vivid descriptions of the lifestyle and the landscape evoke a sense of ancient Roman times.
Despite being a short novel, the story is quite complex, and I found it challenging to follow the political intrigue and twists in the storyline and also keep track of the several characters with unfamiliar sounding Latin names. It is best to read the back glossary first because it provides helpful factual historical context of the events and places and supports comprehension of the story.
I recommend this book as an engaging story and fascinating insight into a specific place and time in ancient Roman history. It is suited to strong readers at middle grade level (upper primary to early high school).
Reviewed by Barbara Swartz