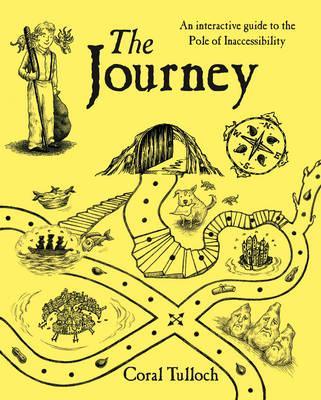 TULLOCH, Coral The Journey Walker, 2013 120pp A$19.95 NZ$29.99 ISBN 9781922077615 SCIS 1635791
This is an outstandingly imaginative book that children will love.  The opening page lists simple items that will be required on the journey such as a pencil and paper, a die for games, and so on.  The five chapter titles and intriguing chapter summaries draw the reader further into young Bernard's adventure.
Coral Tulloch writes brilliantly, knowing exactly how to entice and maintain youngsters' attention.
The line drawings are as superb as the text, full of action and humour.  What is most memorable and successful, however, are the wonderfully inventive 'interventions' that are spread throughout the story: codes to decipher, numerous board game, riddles, recipes (mothers may want to reduce the number of plums in the jam recipe), memory games, and fascinating maps including one to be completed by the reader at the end of the story.  Carefully produced in a spiral bound format, this book is excellent value and will entertain readers for hours.  Highly recommended.  Ages 6-10.  (ED)