F.C. Yee, The Iron Will of Genie Lo, Abrams, March 2020, 304 pp., RRP $27.99 (pbk), ISBN 9781419731457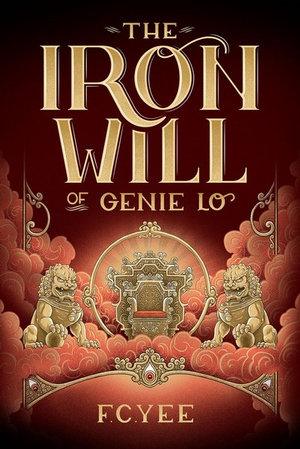 Think of Buffy the Vampire Slayer meets The Adventures of Monkey. If that has your attention, then these are the books for you.
Genie is a snarky Asian-American highschool student focused on whatever it takes to earn a college scholarship and get the hell out of Silicon Valley until the day she tries to save a guy getting beaten up. When the guy she almost saved turns up as a new student in her class, leaps onto the desk, and claims that Genie belongs with him, things get complicated. Then Quentin tells her that he's the legendary Monkey King, Sun Wukong, and that they have serious history together.
After Genie stops laughing and kicking him out of her life, the demons start turning up and Genie has to figure out what she's doing and how to balance demon-hunting, a full study load, and an annoyingly gorgeous immortal who just won't leave her alone.
In these uncertain times, young adult fiction that hooks you in from the first snarky line, keeps a smile on your face, and leaves you desperate for more is gold. The Genie Lo duology is everything I needed it to be. 
The story is well-balanced between humour (sometimes dark) and action and compellingly tense moments. As Buffy does, it sits on the line between the mystical and the everyday world, and subtly draws metaphors out of immortal beings and mythological creatures and the landscape the characters exist in.
There is a solid cast of well-fleshed-out characters, and I particularly adore Guanyin, the Goddess of Mercy with her ruthless efficiency. Where mythology crosses Genie's everyday world, the moral and ethical implications and philosophies are explored with a deft hand that brings considerable depth to what could be a lightweight adventure.
The books work with Chinese mythology to draw interesting lines between the old world and new times, and the collisions are reflected in a number of aspects of Genie's life and the world around her, especially in her sense of family and friends. Family is a deep theme throughout the duology, and is developed with warmth, dry humour and a certain amount of loving exasperation.
Family and close friends are sacrosanct to Genie, and Yee drives a compelling story with Genie's need to navigate the line between protecting what matters most to her with the inevitable conflicts that happen when mythological demons cut a little too close to her everyday world.
And of course, there is a beautifully snarky building romance between Genie and Quentin. I adored the way their characters work so well together as well as the ways their characters collide. Things do get a little heated between them – this is definitely a kissing movie – but it is kept within M rated lines and they both respect the lines that they each draw.
This is a series that I tried to spin out, but it was just so good that I finished each book within hours of first opening them, and then turned around and re-read again. And handed to my husband to read, and then snatched back as soon as he'd finished it so I could re-read it again. And buttonholed everyone I knew to tell them to read it. I would happily hand it to any reader over the age of thirteen who likes the sound of all this.
Buffy meets Monkey. Seriously.
Reviewed by Emily Clarke