Ibtihaj Muhammad & S.K. Ali (text) and Hatem Aly (illustrator), The Proudest Blue, Andersen Press Ltd., January 2020, 40 pp., RRP $24.99 (hbk), ISBN 979781783449712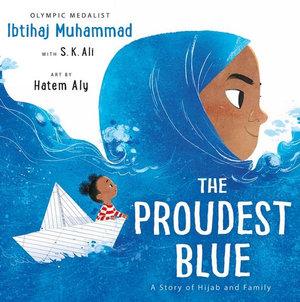 Faizah's big sister, Asiya, is wearing her first hijab on the first day back at school, and Faizah is very excited for her. Through Faizah's eyes, we see her sister and the hijab both as a beautiful piece of clothing and as a symbol of many things, and the language is both loving and poetic while the artwork is charming and full of character, and supports the fluidity of the story.
Faizah describes Asiya's hijab and through her role as younger sister, and her aspiration to one day have a hijab just like her sister's, we can see this special moment in Asiya's life. Faizah returns to descriptions of the headscarf as blue as the sky and the ocean, as special and normal. Princess imagery reinforces how Faizah feels about it.
She shifts into moments of unease once they go to school and they're confronted with some less than positive attitudes. The illustrations reinforce those moments with slightly darker colours and more crowded spaces, but there is always a return to the fluid blue of the water metaphor and the softer shades. The repeated references Faizah makes to the number of footsteps she takes seems to anchor the points between her moments of unease and reassurance of strength and pride.
One element that I noticed within the illustrations is that when Asiya is shown as facing bullies who laugh at her hijab and insult her, she is never alone. She is drawn surrounded by friends glaring down the faceless bullies, and defended by her little sister. There is acknowledgement and awareness of negative attitudes, but there is always a return to the special and the normal, and the gorgeous images Faizah has of her sister in a hijab as blue as the ocean and the sky, and feeling like a princess.
I love the strength and warmth of the sisterly relationship in this story, and the way that Faizah looks up to her sister as well as supporting her.
This book would make a beautiful classroom story to help understand not so much the history and cultural reasons behind wearing the hijab but the sense of how it can be a special moment in a young woman's life, and a source of pride and joy. The Proudest Blue could, obviously, be used in a classroom as a starting point for discussions of cultural and religious difference, and the author's notes at the end would add valuable depth to such a discussion. It would also be a charming and thoughtful story to enjoy one-on-one with young readers aged 4 and up, and I hope they would take as much delight in this book as I did.
Reviewed by Emily Clarke