Helenka Stachera (text) and Marco Guadalupi (illustrator), The Ice Whisperers, Penguin Random House, November 2021, 368 pp., RRP $16.99 (pbk), ISBN 9780241491287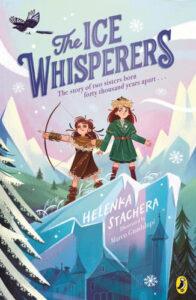 The Ice Whisperers by Helenka Stachera is a story of two sisters born forty thousand years apart and living in two different worlds. Thirteen-year-old Bela has always felt an outsider in her Great-Aunt's house where she is generally treated with contempt and aversion. After the news of her mother's death, Bela is summoned to stay with her uncle in the deepest Siberia and with her father lost years before in an expedition gone wrong, Bela has no choice but to go. At Wilder House, Bela discovers a secret that leads her to the world of the dead and a family she never knew. But this world is in danger and it's up to Bela and her sister Ren-ya of The Last tribe, to save it.
This book is rich with legend, history, and world building. I loved how Bela could taste emotions and how The Last had different eyes. It was these touches that really brought the two worlds and characters to life. I also admired the realistic brutality. This is not to say the book is filled with casual brutality, it's not. But nor does the story shy away from probable actions by antagonists who are evil, just because it is a middle grade novel.
I also really enjoyed the interplay between the sisters who needed to trust each other with nothing but the memory of their mother to bind them. Although the plot could have been stronger in places, in general the story moves along at a decent pace with a suitable conclusion. And as a fan of novels set in the Ice Age, I loved the Northern Siberian setting.
The book touches on concepts of trust, legacy, and family. It also has themes of diversity and coming of age, with the sisters learning to choose their own paths and embrace their strengths.
A imaginative, family adventure, rich with legend that will appeal to kids aged 10-13. The Ice Whisperers by Helenka Strachera will be relished by kids who enjoy history, legend, sibling relationships and stories set in the Ice Age. Perfect for kids who have enjoyed the Tarin of the Mammoths series by Jo Sandu, The Republic of Birds by Jessica Miller and The Ice Wolves series by Amie Kaufman.
Reviewed by Renee Mihulka