Neil Grant, The Honeyman and the Hunter, Allen and Unwin, April 2019, 288 pp., RRP $19.99 (pbk), ISBN 9781760631871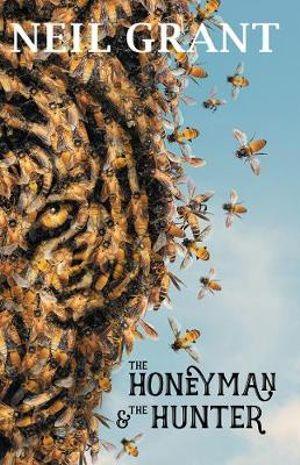 There's much to like about The Honeyman and the Hunter – for one, that eerie cover finally makes a beautiful kind of sense. Rudra's confusion about who he is and how he should feel about his Indian heritage is relatable, and the bond between mothers and their children shines through.
Neil Grant is a wonderful writer, building descriptions of the small world in which Rudra lives with his parents, and the world his didima (grandmother) brings to their doorstep in the stories she tells him when she comes to visit. The author effectively draws a picture of Rudra's summer holiday: a young Australian boy, hanging out with his friend, like all Aussies do with sunny days and surf nearby. But interspersed is the ugly racism of boys who think Indians could never be born in Australia, and are all curry munchers and should go back home.
As Rudra points out to them home is Australia, but when his didima comes, so too comes a different sense of home. She tells him stories of the village in which she grew up, and stories of Indian mythology that seem incredibly familiar to Rudra. She also shares stories of his mother, when she was a promising student who came to Australia to study – and fell in love with a fisherman.
The bonds with the characters of his Indian half are so filled with love, that the coldness with his father, and the fear Rudra has of him becomes far more pronounced. Cord doesn't speak, but his abuse looms large over his wife and son and in every decision they make. I did wonder what story could have been told had Cord been a good man who loved his son and adored his wife.
When didima dies in Australia, Rudra's mother vows to fulfil her last wishes and take her back to the village of her childhood. So begins their journey into India, and the people they meet along the way.
In particular, there is a taxi driver who guides them through their journey, who tells them he is going to be the next great Amitabh Bachan in Bollywood – except from Nepal. He tells them how he outgrew his village and his family – just like Rudra's mother did her village and family, while Rudra is only just learning that is what he can do – that he isn't tied to the life of a fisherman in a small town.
The Honeyman and the Hunter is a beautiful coming of age story, and about the bonds between mothers and their children.
Reviewed by Verushka Byrow