David Hunt (text) and Lucia Masciullo (illustrator), My Real Friend, ABC Books, May 2019, 32 pp., RRP $24.99 (hbk), ISBN 9780733334894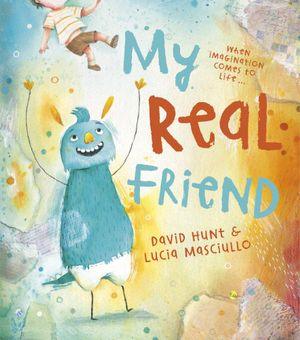 An endearing and witty tale that brings the imagination to life!
My Real Friend qualifies as one of the most imaginative picture books around, with concepts that will put young readers' minds into a spin. Bestselling author of The Nose Pixies, David Hunt, and highly acclaimed illustrator, Lucia Masciullo, work brilliantly as a pair to bring about a wildly explosive combination of heart, humour and energy.
Rupert is the imaginary friend to young William. They have a lot in common, including music, sport, and painting. They both have parents (Rupert's mum is the one with the beard), and live in houses (William's is the weird one!). However, despite Rupert being the one in William's head, he has a mind of his own and sometimes wants different things. Like, how many times does he have to lose the battle of SIR WILLIAM OF THE ROUND TABLE VERSUS THE BLACK KNIGHT? But Rupert's greatest fear is that of fading; that is, no longer being a figure of William's imagination. Until one day, this actually comes true. Will Rupert be replaced, and does he is still exist?
There are loads of visual elements in the vivacious, multi-media illustrations to explore, ponder and have a good giggle about. The colour palette of teal blues and lemon yellows are perfect for this story combining effervescence and tenderness at the same time. My Real Friend is a clever narrative asking readers to consider differing perspectives, as well as inviting thought on the power of friendship and its effect on one's identity. Heart-warming, funny and brilliant. Highly recommended for children aged three and up.
Reviewed by Romi Sharp
Read Liz Anelli's review here