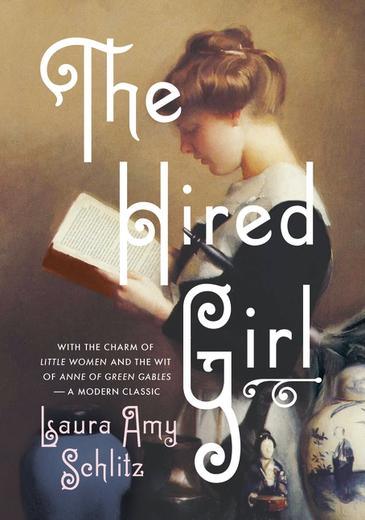 Laura Amy Schlitz,  The Hired Girl,  Walker Books,  1 Feb 2016, 400pp.,  $27.99 (hbk)  ISBN 0781406361407
The Hired Girl is set in 1911 in America. The heroine, 14 year old, Joan Skraggs runs away from the poverty and brutality of her family farm and, after a narrow escape, ends up as a servant to the Rosenbachs who are a well-off, Jewish family.  Joan changes her name to Janet Lovelace and claims to be 18, which is accepted.
Joan longs for an education and a mother figure and she records her frustrations and adventures in a diary.  She finds her new environment very interesting and readers will learn much about housekeeping customs of the time, books and art, and Judaism from her observations.
Amy Schlitz writes with wry humour, particularly of Joan's religious dilemmas as a practising Catholic.  I particularly enjoyed Joan's discussions of her problems with Mary, the mother of Jesus.
'The Blessed Mother said she wasn't worried about me turning Protestant, but she thought I might stop working so hard at hating Lucy Watkins and Hazel Fry. I thought about that and supposed it was true. It's not good to hate people in a holy place, when you're asking God to forgive you the same way you forgive the ones who trespass against you. But it seems to me that if I stop hating Lucy Watkins and Hazel Fry, I might lose something. I decided I would stop hating them during the service and take it up again after I got out. I asked the Blessed Mother if that would be all right, and she said it would be an improvement.'
Racism and romance are also explained with similar humour:
'Mr Solomon and Mr David went to a Quaker school, which is willing to accept Jews, but only if there aren't too many.'
and
'I wonder how married men go off to work every morning, when they could stay home and kiss their wives.'
Joan is a wonderful heroine: feisty, tactless, thoughtful, romantic, determined and very young and idealistic. The Hired Girl is a great book for young people aged 12-16.
Reviewed by Katy Gerner