Jackie French, The Great Gallipoli Escape, HarperCollins Australia. April 2023, 304 pp, RRP $16.99 (pbk), ISBN 9781460762127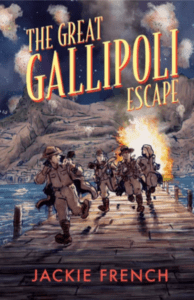 From celebrated author Jackie French comes the "lost" story of the extraordinary withdrawal of Anzacs in the final days of the Gallipoli campaign.
Based on first-hand accounts (diaries, letters, oral histories and memories), The Great Gallipoli Escape offers compelling insight into a brave, impeccably planned evacuation of Anzacs kept secret from all but a few trusted sources. French crafts a cast of credible and sympathetic characters to populate this story, including sixteen-year-old Nipper, one of the few men holding the secret that an entire army would soon be moved under cloak of darkness to a waiting ship. The fact that this Herculean feat was carried out over consecutive nights without any loss of life is incredulous.
The author's notes at the back of the book provide useful context for this powerful tale, one of countless stories, French notes, that may vary in many respects but still be true.
Reviewed by Maura Pierlot